As we get closer to the full implementation of Obamacare, people are seeing what it really means for them.  The Obama spin machine no longer controls the narrative.  This is where the rubber hits the road.  And many people are getting their first taste of it ahead of implementation and it tastes bad.  (Not even hot sauce will help)  Today, there is a wealth of news on Obamacare, that everyone should sit up and take notice of.
In California, residents are finding out about the silver option in the government run exchanges.  And it's certainly an eye opener for the liberals who read Paul Krugman's article on how great Obamacare is for California.  Of course you have to remember that Krugman was the financial adviser to ENRON, which is like being the inventor of cyclamates or the owner of the Chicago Cubs.  (The Cubbies are just like Michael Jackson.  They wear one glove for no apparent reason)
But now, California residents have been treated to a huge dose of reality, beginning with a $2,000 deductible and a $25 dollar charge for generic medicines.  The generic medicine charge is extremely onerous, when you consider Walmart charges $10 dollars for a three month supply of many generics.  The complete rundown is here: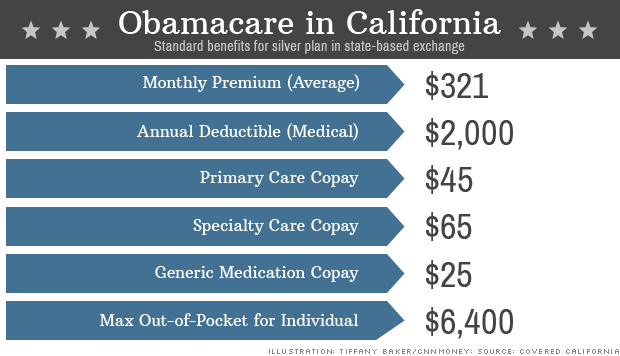 take our poll - story continues below
Completing this poll grants you access to DC Clothesline updates free of charge. You may opt out at anytime. You also agree to this site's Privacy Policy and Terms of Use.
At $321 a month for an individual, that means in a year, you pay $3,853 and add the deductible and you are looking at $5,853 even if you never see a doctor.  A healthy young person will see the sense in paying the $95 dollar penalty at least in the first year, giving them $5,758 to pay for doctor visits and prescriptions.  That will lead to even higher premiums since the idea of making healthcare more affordable is predicated on everyone buying insurance.
Of course there are cheaper plans but they come with a shock.  You can buy the bronze plan for as little as #219 a month, but comes with a $5,000 deductible.  Now stop and consider that for a moment.  The silver plan costs $5853, including deductible and the lesser bronze plan costs $7,628 including deductible.  Nuff said?
And the cost of Obamacare isn't the only problem.  In 2009, Walmart hired 1.4 million employees.  About 2% of those were temporary positions.  The employees are hired for 180 day contracts.  At the end of that time, they could become full time or part time associates.  Those who are not selected can reapply for temporary status.  In 2012, they hired 1.3 million, with nearly 10% being temporary hires.  This is being done to avoid the crippling penalties under Obamacare, meaning that employees have much less security and part time employees have seen their hours cut to below thirty a week, causing additional financial pain.
Temporary employees are responsible for their own healthcare policies, which with subsidies will add to the burden of US taxpayers.  Depending on which state they live in, the deductibles and copays could be well out of their reach, even if they get a 100% subsidy.  The end result could very well be that nearly as many employees could lose healthcare than would stand to gain them.  Most of the new healthcare recipients (19 million) will get Medicaid with no deductibles or copays.  We are shifting the crises from nonworking Americans and illegal aliens to lower paid, working Americans.  Who thought up this plan?  Wile E Coyote?
The pain is now finding it's way to Capitol Hill.  Many legislators and their staff members are headed out the door because they are being forced into exchanges, which will greatly increase their costs for healthcare.  (I am still trying to figure out if that is a good thing or a bad thing)  Without experienced people, it could become extremely difficult to pass and enact legislation, since one word wrong or out of place can send it back to congress without becoming law.  (Okay, it's a good thing.)
Our elected members of congress come and go at the whim of the voters, but staffers move from office to office with their experience.  Our elected officials depend on this staff to do the bulk of the work, they simply don't have time for, including constituent help in accessing the government for help.  And we keep saying we need more citizen legislators, like we had in the beginning of America, but this is just another burden those people could not carry.  The affluent like Pelosi and Reid would have a huge advantage.
But at least there is some positive news.  If you are the typical low information liberal voter, you can get a free bumper sticker saying you stand with Barack Obama and Obamacare.  Well, free if you don't count the rising cost of diminished healthcare.
So when it comes to Obamacare, take my advice, don't get sick.
Steven Ahle is the Editor of Red Statements and a regular contributor to The D.C. Clothesline.