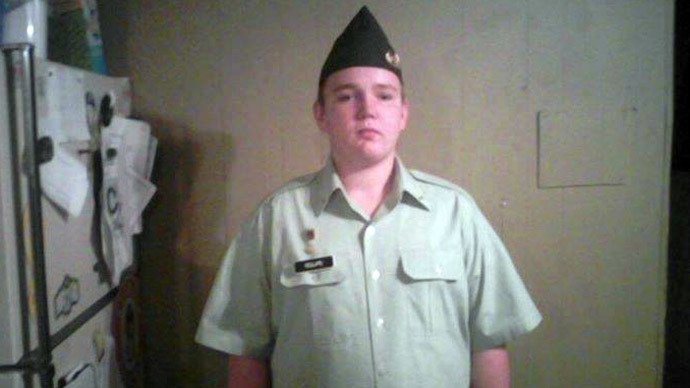 Photo from Facebook.com/pages/RIP-Bubba-Christopher-Roupe (Editor's note: page has since been removed)
A 17-year-old high school student who wanted to be a US Marine was fatally shot by Georgia police officers who mistook the video game controller in his hand for a weapon, the lawyer representing his family says.
Christopher Roupe was preparing to watch a movie when two police officers showed up at the door to execute a probation violation against his father, according to his family.
Euharlee Police Chief Terry Hagert also stated that two officers arrived at the home on Friday night. When Roupe answered the door, the female officer believed he was pointing a gun at her and fired a single shot at the young man. The police refused to reveal the names of the officers that responded to the scene.
take our poll - story continues below
Completing this poll grants you access to DC Clothesline updates free of charge. You may opt out at anytime. You also agree to this site's Privacy Policy and Terms of Use.
Roupe was a member of the Reserve Officers' Training Corps (ROTC) in high school and has friends who he helped at school.
"He was a good kid. He always hung out with me and he took up for me," friend William Corson told WSB-TV.
A funeral for Roupe is scheduled for Friday, just one day before what would have been his 18th birthday. The young man planned to join the Marines after graduating from high school.
Neighbor Ken Yates told reporters he heard the gunshot and saw the female officer seconds after.
"This is tragic. She came out of this house. She put her head in her hands and she was sobbing," he said. "Supposedly, he opened the door with a BB gun."
Chief Harget declined to identify the officer involved in order to protect her privacy, but referred all questions to the Georgia Bureau of Investigation, which is running the probe into the incident. The officer has been placed on administrative leave – the standard measure when an officer is involved in a shooting.
Roupe's family plans to file a lawsuit against the department, with attorney Cole Law saying the story simply "doesn't add up."
"We don't know where that statement came from," he said. "The eyewitness on the scene clearly stated that he had a Wii controller in his hand. He heard a knock at the door. He asked who it was, there was no response so he opened the door and upon opening the door he was immediately shot in the chest."
Euharleee is a bedroom community of Cartersville, Georgia, with a population of under 5,000 people at the time of the 2010 US Census. Roupe was a senior at Woodland High School.
Contributed by RT.com