Back on April 3, I reported on a nine-month-old Pakistani boy who had been booked for attempted murder. The sharia court accuses the infant of attacking the police. Musa was produced in court, where Additional District and Sessions Judge Rafaqat Ali granted bail to the minor till April 12 and directed the police to "record his statement."
Now, that baby has gone into hiding.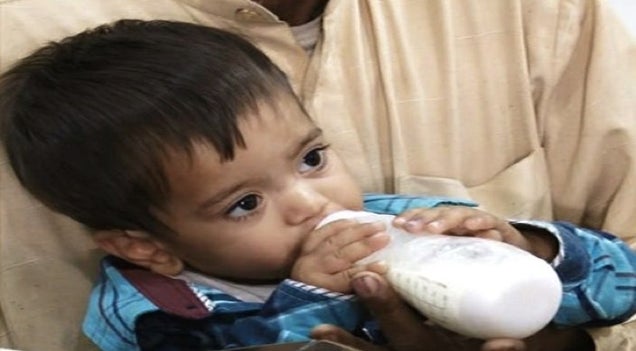 Muhammad Mosa Khan, also known as "Musa," appeared in a Pakistani court this week, one of 30 people accused of trying to steal gas and murder police by stoning them to death. Musa is 9 months old.
Muhammad Mosa Khan, also known as "Musa," appeared in a Pakistani court this week, one of 30 people accused of trying to steal gas and… Read…
take our poll - story continues below

Completing this poll grants you access to DC Clothesline updates free of charge. You may opt out at anytime. You also agree to this site's Privacy Policy and Terms of Use.

Gawker, April 7, 2014

A 9-month-old Pakistani baby accused of raiding a state-run gas company and plotting to murder police has gone into hiding following his first court appearance last week.

Alleged infant criminal mastermind Muhammad "Musa" Khan was charged with conspiracy to commit murder Feb. 1, along with his father, grandfather and around 30 others. The group was protesting an increase in gas prices and a lack of available electricity in their area.

Baby Musa was granted bail in a Lahore court last week, and has another court appearance scheduled for April 12. His family hasn't decided whether he'll show up.

"Police are vindictive. Now they are trying to settle the issue on personal grounds, that's why I sent my grandson to Faisalabad for protection," the baby's grandfather, Muhammad Yasin, told Reuters.

It's also become more clear how the baby was charged with a crime in the first place: A police sub-inspector apparently claimed in a report that Yasin's entire family beat him up during the protest. That sub-inspector has since been fired.

"[Musa] does not even know how to pick up his milk bottle properly, how can he stone the police?" Yasin asked at the child's court appearance last Thursday.
Pamela Geller is the Editor of PamelaGeller.com