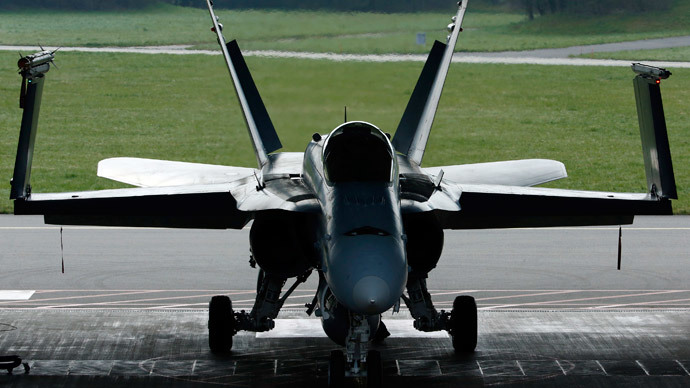 "The federal government has encouraged the development and use of alternative fuels to reduce greenhouse gas emissions associated with aviation and to enhance economic development and energy security for the United States," the study said. "To help achieve these goals of reducing greenhouse gas emissions, the aviation industry is actively supporting alternative jet fuels."
But alternative jet fuels aren't cheap because there is still a need to develop a viable market, the report found. There are no alternative jet fuels that are commercially available at competitive prices when compared to traditional jet fuels.
While traditional fuel is much cheaper – averaging around $3 a gallon – the Pentagon's purchases of "green" fuels with that extra $147 per gallon are helping to subsidize an industry that has become one of President Barack Obama's pet projects. HEFA and other alternative jet fuels are currently produced in large measure by small firms that do not have the economies of scale to manufacture them in a cost-effective way, according to the Washington Free Beacon. The GAO report cited a Federal Aviation Administration study estimated that "alternative jet fuels produced on a commercial scale using the HEFA process would require a subsidy of $0.35 to $2.86 per gallon to be price-competitive with conventional jet fuels in 2020."
The US military, with the backing of Congress via the Energy Policy Act of 2005, is focusing on jet fuels that are derived from renewable sources. One of those sources is Hydroprocessed Esters and Fatty Acids (HEFA), a "renewable oil (e.g., vegetable oils, animal fat, waste grease, and algae oil) … processed using hydrogen treatment (hydroprocessing) to yield a fuel in the distillation range of jet fuel and diesel."
The US Navy and Air Force have established alternative-fuel usage goals. The two branches are willing to purchase non-traditional fuels that meet specific criteria, the report says, "including availability at a price that is competitive with conventional fuels." The Navy's goal is to derive 50 percent of total Navy energy consumption afloat from renewable sources by 2020, requiring 336 million gallons of alternative marine and jet fuels annually. The Air Force's goal is "increasing the use of cost-competitive drop-in alternative jet-fuel blends for non-contingency operations to 50 percent of total consumption by 2025."
The Navy consumes over 600 million gallons of petroleum-based aviation fuel each year (40 percent of its total petroleum consumption), while the Air Force consumes about 2.5 billion gallons of jet fuel each year (80 percent of it total energy consumption), the GAO says.
Both branches came under fire in July 2012 for their spending on alternative fuels. Then the Air Force purchased 11,000 gallons of alcohol-to-jet fuel from a Colorado biofuels company at $59 a gallon, spending a total of $649,000 to prove the efficiency of alternative fuels in military aircraft. Meanwhile the Navy spent $12 million in one day to demonstrate its so-called Great Green Fleet during the summer's Rim of the Pacific multinational naval exercise. That money equated to $26 a gallon on 450,000 gallons of renewable fuel for its naval vessels, making it the largest single purchase of biofuels in history, naval-technology.com reports.
And just a day before the GAO study was released, the Department of Defense testified before Congress on Tuesday about cutting military pay raises and increasing health care fees for troops and their families, the Daily Caller reports.
"In our deliberations, we collectively assessed how a wide range of compensation proposals would affect our troops at every rank, and over the course of their service," Chairman of the Joint Chiefs of Staff Gen. Martin Dempsey said in his written testimony for the hearing. "We concluded that we can no longer put off rebalancing our military compensation."
The 2015 defense budget would save the military $31 billion by reducing pay raises to 1 percent, raising health care fees and shrinking housing allowances an average of 5 percent, Military.com reports.
Contributed by RT.com