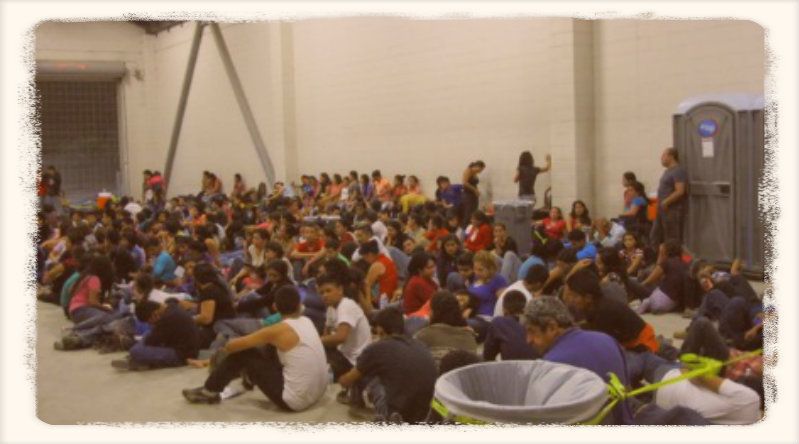 So far this year, more than 52,000 unaccompanied "children" have arrived in the U.S. from Mexico and Central America. At a recent Congressional hearing, Homeland Security Committee Chairman Mike McCaul, (R-TX) called the situation a "refugee crisis in the making for years" and "one we should have seen coming."
I would certainly agree with Congressman McCaul's statement that this "crisis" has been "in the making for years." But I would submit to you that there were those in the Obama administration who did "see it coming." They even made detailed plans for it six months in advance!
On January 29, 2014, the Federal Government posted an ad on their BizOpps website seeking "escorts" for illegal Unaccompanied Alien Children (UAC). At the time of this proposal request, the (UAC) flood had not begun. But obviously, it was expected. Here are the "requirements" for such an escort proposal.
"U.S. Immigration and Customs Enforcement (ICE) is seeking the services of a responsible vendor that shares the philosophy of treating all Unaccompanied Alien Children (UAC) with dignity and respect, while adhering to standard operating procedures and policies that allow for an effective, efficient, and incident free transport. The Contractor shall provide unarmed escort staff, including management, supervision, manpower, training, certifications, licenses, drug testing, equipment, and supplies necessary to provide on-demand escort services for non-criminal/non-delinquent unaccompanied alien children ages infant to 17 years of age, seven (7) days a week, 365 days a year. Transport will be required for either category of UAC or individual juveniles, to include both male and female juveniles. There will be approximately 65,000 UAC in total: 25% local ground transport, 25% via ICE charter and 50% via commercial air. Respondents are requested to submit written or electronic submissions via email to [email protected] by 1:00pm EST on Monday, February 19, 2014."

Not only did the Administration know last January that they were coming, but had a pretty good idea of how many to expect, their ages, and even their modes of transportation. If this doesn't prove that the entire mess was planned and anticipated, nothing ever will!
"It is a predictable, orchestrated, and contrived assault on the compassionate side of Americans," stated the chairman of the National Association of Former Border Patrol Officers. But why? What is the Obama Administration's motive? Well, that one is easy.
Rep. Steve Stockman, R (TX) said, "It's an open secret Obama is trying to flood Texas with illegals to make it into a 'blue state' with a Democrat majority. If we lose Texas, then we lose the chance of ever getting another Republican elected president," the Texas lawmaker warned.
Representative Steve King, (R-OK) agreed that one of the aims of the illegal-alien flood is to turn Texas into a Democrat state. "You or I could shut that thing down in less than a week," he said. "Instead of busing and flying illegals out of Texas, you fly enforcement people in." But President Obama has vetoed the idea of sending additional personnel to control the border.
In the meantime, the Immigration and Customs Enforcement agency has put out a bid for 42,000 pairs of white 100-percent-cotton men's briefs — and are in desperate need of super-sizes like 4,800 size "2X-Large," 4,800 size "3X-Large" and "4X-Large," 3,600 size "5X-Large, and 2,400 pairs of "6X-Large" underwear — a garment that retailers say would fit someone weighing as much as 500 pounds. These are some pretty good sized Unaccompanied Alien Children (UAC), don't you think? The contract solicitation, posted June 5, requires delivery to El Paso, TX within 30 days.
OK. So it's pretty obvious what is happening. Democrat control of Texas politics is crucial to a Party victory in 2016, and beyond. So the Obama Administration has schemed to have our southern border over-run with homeless children, who, as wards of the State, will become loyal voters in due time. But to cover the near-term, like 2016, it was necessary to divert attention toward the plight of the homeless children, while super-sized voting-age gang members, drug dealers, human traffickers, and the like, brazenly storm the gates of Texas, and the American democracy.
A brilliant political move. But one from which our Nation may never recover. At least, not in my lifetime.
Ed Wood's article previously appeared at Freedom Outpost.