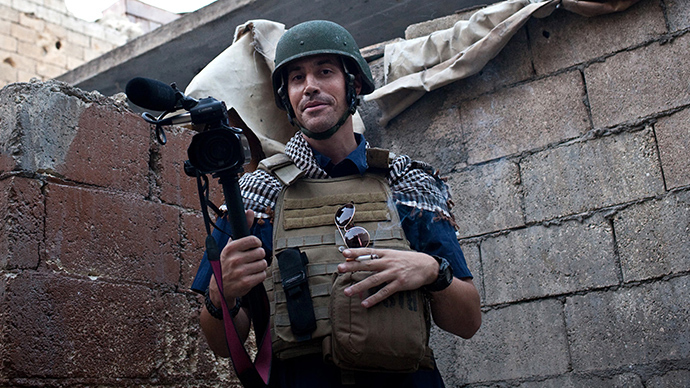 Obama administration officials repeatedly warned the family of murdered journalist James Foley that they might face criminal charges for supporting terrorism if they paid a ransom to the Islamic State jihadists who were holding and, ultimately, beheaded their son, his mother and brother said this week.
"We were told that several times and we took it as a threat and it was appalling," Foley's mother Diane said in an interview with ABC News.
take our poll - story continues below
Completing this poll grants you access to DC Clothesline updates free of charge. You may opt out at anytime. You also agree to this site's Privacy Policy and Terms of Use.
"I think our efforts to get Jim freed were an annoyance," she elaborated in another interview with CNN."It didn't seem to be in [US] strategic interest, if you will."
The 40-year-old journalist was kidnapped by Islamic State (IS) radicals in November 2012 while reporting from Syria. He was ceremonially beheaded, apparently over US military involvement in Iraq, and a video of his murder was released by the group in August.
In the months leading up to his death, the Foley family was contacted by the jihadists with large ransom demands, which they were unable to meet.
Officials told Foley family members "not go to the media," and that the "government would not exchange prisoners," according to Diane Foley. Diane and her husband John were also concerned that any donors to their ransom collection drive might be thrown in prison for funding terrorism.
"Jim was killed in the most horrific way. He was sacrificed because of just a lack of coordination, lack of communication, lack of prioritization," Diane Foley said. "As a family, we had to find our way through this on our own."
"It was very upsetting because we were essentially told to trust… that the way they were handling things would bring our son home," she added.
Several US officials familiar with Foley case confirmed the alleged threats were made. "It was an utterly idiotic thing to do that came across as if [the US official] had the compassion of an anvil," one official told ABC.
However, State Department spokesperson Marie Harf somewhat denied the allegations, saying, "This department would never and did not ever intend nor do we think we ever did anything that we would consider threatening." Hostage families are usually only helped to "understand what [US] laws are about terrorists or paying ransom to terrorists," she added.
On September 2, the IS murdered another journalist, American Israeli Steven Sotloff. The 31-year-old Floridian was captured in August 2013 while reporting from Aleppo, Syria.
Commenting on the government's unsuccessful efforts to rescue James Foley and Steven Sotloff, the State Department spokesperson added that "this government undertook every single opportunity to find and bring home these American citizens that are being held by ISIS."
The Foley family launched the James W. Foley Legacy Fund this week, which in large part is intended to help other hostages' loved ones navigate the frustrating currents they encountered both with the terrorists and with their own government. Two American and several British hostages still remain in ISIS captivity.
"I fear for the remaining American hostages' families, who have been [intimidated] in a similar way," she told ABC News. "It definitely interfered with our efforts to bring Jim home."
Asked whether she had believed ISIS would accept a ransom payment and free their son, as they had many European hostages liberated for between $2-3 million each, Diane Foley replied, "I do, maybe – I mean, who knows?"
Contributed by RT.com