There is a war going on against Christians. For a long time the war has been covert and centered around  issues such as nativity scenes at Christmas. More recently, the satanic influence which is beginning to dominate American public lives is becoming demonstrably open and aggressive and this spirit has invaded the sports world where so many young people look for role models.
Don't Pray At Tempe Prep
Tempe (AZ) Prep football coach Tommy Brittain has been suspended two weeks for praying with his team after the Show Low win two weeks ago, his wife, Melissa, confirmed.
Tempe Prep Athletic Director Nancy Calahan said she could not comment on the suspension and deferred to the headmaster, David Baum, who has not yet responded to media inquiries as of this past Friday morning for comment on why a two-week suspension was brought forth.
take our poll - story continues below
Completing this poll grants you access to DC Clothesline updates free of charge. You may opt out at anytime. You also agree to this site's Privacy Policy and Terms of Use.
Isn't it ironic? The front page news is inundated with NFL players being disciplined for lack of moral character and fiber. We hold players on the proverbial pedestal as 'role models' and are disappointed/betrayed when they beat their families , act financially irresponsible, and generally conduct themselves like gangsters. And then here we have a moral and responsible adult molding young men into civilized adults and teaching them self-respect, love of God and family and the 'reward' for this coach is the loss of livelihood by suspension. We say we want our coaches to be moral mentors, yet are disappointed by the obvious result.
It is safe to say that these will not be the last "Baums" to be dropped on Christianity.
RG3
Washington Redskins quarterback, Robert Griffin III (RG3) was wearing a Christian T-shirt at a post-game press conference until the NFL said "No way,"  RG3's shirt read "Know Jesus Know Peace" and, also, "No Jesus No Peace."
Michael Phillips, a sportswriter for the Richmond Times Dispatch, who was in the room tweeted: "RG3 was wearing a t-shirt that said 'Know Jesus, Know Peace.'
RG3 acquiesced and turned his shirt inside-out. This certainly will not earn him bonus points on Judgment Day. Yet, I cannot help wondering if the T-shirt said " "Allahu Akbar" (الله أكبر)", the NFL would not have dared to say a word.
Do Not "Cross" the Line
Football players from Arkansas State University placed a small Christian symbol on their football helmets to commemorate the lives of the late Markel Owens, a former player, and Barry Weyer, the former equipment manager, according to conservative commentator Todd Starnes.
Louis Nisenbaum, an attorney in Jonesboro, Arkansas, saw the team playing on television, he subsequently wrote to the university's legal counsel to complain about the cross. Arkansas State University attorney Lucinda McDaniel subsequently agreed that the symbol was a "problem", recommending that athletic director Terry Mohajir order it removed or alter it.
Mohaij stated this decision to remove the crosses from the helmets was based on the Establishment Clause of the U.S. Constitution. Not so fast , My Great Commissar of Athletics, the First Amendment promises freedom OF religion, not freedom FROM religion. There is a bit of good news, the outcry was felt far and wide and the officials at Arkansas State University, yesterday, lifted the ban on crosses. However, I cannot help wondering that if the symbol placed on helmets had been a Wiccan symbol, the keepers of the devil's gate would not have dared make it an issue. Do you really think that is a far-fetched statement. Please consider the following.
Who Is Really Behind This Evil?
Following up on their success in their ability and "right" in getting their agenda into childrens' minds through Hollywood's entertainment and music industries", worshipers of Satan have found a new way into your children's minds and souls by using the court system to force access to schools and distribute their satanic literature to children while attending school!
Pamphlets are now being distributed to children in the Orange School District (FL) which promotes social justice and the love of Satan. Attention parents of Orange Schools, where are you?
Conclusion
We are witnessing the persecution of Christians through the principle of incrementalism. Hitler did the same. First, there was the public chastising of the Jews. Then they were denied employment and the right to publicly practice their religion. The worst began to happen.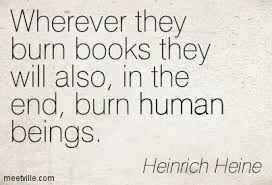 Today in the United States, the abolishment of Christianity is underway. Through the DHS sponsored Clergy Response Team and making churches into IRS controlled tax exempt foundations, the message from the pulpit is being controlled. Now we are witnessing the marginalizing of Christians and the removal Christian practices from all public venues. Christian traditions are being erased. A famous quote was offered which helps frame these current events of persecution against Christians "wherever they burn books, in the end, they will burn human beings".  I would offer a variation of this theme, "where they erase religion, they will soon do the same to the followers of that religion".
Any first year law school student will tell you that the 10 Commandments are the basis for our legal code. This is all about to change as well.
Dave Hodges is the Editor and Host of The Common Sense Show.