With the refusal of the Obama administration to close America's southern border, Americans are vulnerable to a bioterrorism attack involving Ebola.
With the refusal of the Obama administration to close the airports to travelers coming out of West Africa, Americans wait helplessly for Ebola to spread throughout the country.
The Inevitable Quarantines
As in West Africa, it is difficult to imagine that a massive quarantine is not America's future. The imposition of such a quarantine would involve six prerequisite resources:

take our poll - story continues below

Completing this poll grants you access to DC Clothesline updates free of charge. You may opt out at anytime. You also agree to this site's Privacy Policy and Terms of Use.

1. A significant number of permanent facilities designed to house Americans long term. 

2. Unlimited numbers of temporary facilities designed to hour Americans in an impromptu fashion. 

3. A sufficient number of personnel to man the aforementioned facilities.

4. The use of ancillary personnel (i.e. local law enforcement) to  support the main martial law occupation force. 

5. The prepositioning of hard assets such as military vehicles, weapons and ammunition. 

6. The creation of the legal authority to detail millions of Americans.

This particular article addresses the vast numbers of temporary facilities which will be needed to quarantine millions of Americans on an impromptu basis, the legal authority to do so and the prepositioning of military assets needed to carry out the mission.
Legal Authority to Detain
The Obama administration has all the laws it needs to imprison anyone should it plan to make mass arrests due to the Patriot Act and National Defense Authorization Act. It has illegally compiled lists of some 8 million names. The government has also acquired vast stockpiles of weapons and bullets.
Ammunition Needed for the Occupation
The Department of Homeland Security (DHS) has acquired 1.6 billion rounds of hollow-point ammunition.
FEMA is stockpiling massive quantities of emergency supplies, particularly in the FEMA Region where Thomas Duncan brought the Ebola virus to Dallas.
The Postal Service, Department of Education, Internal Revenue Service, Social Security Administration and National Oceanic and Atmospheric Administration are buying up weapons and ammunition in bulk.
Even the Department of Agriculture has ordered 320,000 rounds of hollow point bullets and .40 caliber submachine guns!
Under program 1033, DHS is giving away millions of dollars' worth of federal security grants to federal and foreign intelligence agencies.
John Whitehead, from the Rutherford Institute, quotes a New York Times article in which a Pentagon source who states that under Obama police departments have received tens of thousands of machine guns; nearly 200,000 ammunition magazines; thousands of pieces of camouflage and night-vision equipment; and hundreds of silencers, armored cars and surveillance drones, both armed and unarmed.
The Presence of UN Vehicles On American Soil
Sightings of these vehicles have been widely reported beginning last Spring. And this has led some to suspect that an occupation force is being mobilized in our country.  FOX 5, San Diego, ran a report on July 6th, in the early morning hours, which detailed sightings of UN vehicles being transported north of San Diego on Interstate 15 headed towards Riverside. The story said that the vehicles were manufactured in the United States and were being transported for shipment overseas. Really? Does this explain why these vehicles are being transported in SEVERAL southern states? Does the manufacturer have a automotive plant in Georgia, California, Texas, etc? Why don't we see these reports in Detroit?
During the recent immigration crisis, the immigration event was preceded by the sightings of dozens of United Nation vehicles. This is called prepositioning of assets in preparation for martial law, and in this case, it will be medical martial law.
In every case, the vehicles are being transported and not being individually driven. This clearly suggests the prepositioning of military assets for future use.
The references for this first part of this invasion can be found here and here.
The vehicles would be needed to, among other things, transport individuals to various FEMA camps.
The Establishment of Intent: Would the Obama Administration Round Up Innocent Americans and Quarantine Them? Former FBI Informant Larry Grathwohl Says Yes!
I had the good fortune of interviewing the late Larry Grathwohl many times. Larry was well-known for exposing the fact that Bill Ayers and Bernadine Dorne, formerly the leaders of the radical revolutionary group, the Weatherman Underground, launched the political career of Barack Hussein Obama. While Larry was serving as an undercover informant designed to penetrate the Weatherman on behalf of the FBI, he once asked Ayers what would happen if and when these radical communists were ever able to assume control over the US. Ayers responded that "50 million  Americans would have to be placed in re-education camps" (i.e. FEMA Camps). And he added that about "25 million would have to be eliminated". At that time in 1968, the United States only had 200 million people. Ayer's incarceration numbers represented one in four Americans would have to incarcerated and one in eight would have to be murdered. In today's numbers, about 67 million Americans would be incarcerated and over 33 million Americans would have to be murdered. The enormity of this statement by Ayers is staggering. Please keep in mind that this man was the driving force behind the launching of Obama's political career!
Larry felt that a crisis which led to a food and a water shortage, would lend itself to FEMA camp incarcerations under the guise of quarantining Americans.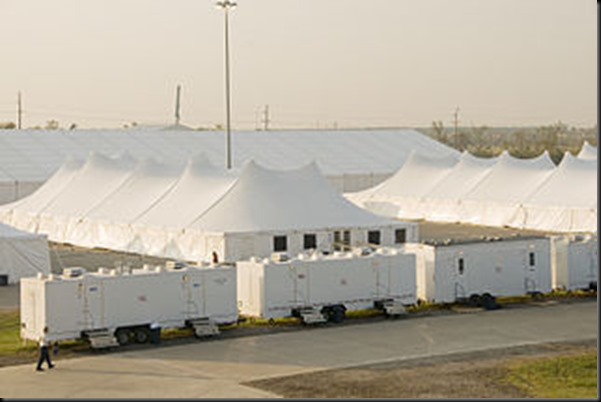 Turning Shopping Malls Into Impromptu FEMA Sponsored Ebola Quarantine Zones
The Obama administration has positioned themselves to vastly increase the number of public venues that could be transformed into quarantine centers in times of national emergency, such as the present Ebola scare.
In September of 2011, Simon Properties, the largest owners of malls in North America inked a deal with DHS to allow their malls to be used as detention centers in times of "national emergency".
DHS has followed suit with their plans to use sports facilities as detention centers (i.e. FEMA camps).
Every NFL Stadium Is An Ebola Quarantine Zone Under FEMA
The NFL's actions in this past season dictates that all freedom-loving Americans should boycott this globalist serving organization. This article demonstrates how the NFL is an extension of the TSA, DHS and the globalist agenda in general.
The new NFL policies are something right out of the Pol Pot regime. In some stadiums, women cannot enter the same entrance as men and children. This is FEMA camp training. The American public is being conditioned to the fact that the state owns your bodies and your freedoms. In addition, the NFL is promoting various globalist agendas such as gun control, and they are doing so with our money. The NFL has come to represent a new era of in-your-face-tyranny.
At Giants Stadium, on March 24, 2011, DHS and local law enforcement conducted a "relocation" drill in which civilians were transported to the stadium.
The Present NFL Is Good FEMA Camp Training
The NFL initiated TSA type procedures at NFL stadiums this past year after it was announced that FEMA, DHS and EVERY major sport league stadium and shopping mall, owned by Simon Properties, agreed to become a "refugee center" in times of "national emergency".  Here are examples of the new look NFL and their new FEMA camp persona.
I think it is likely that these public venues are indirectly training their personnel to become emergency detention officers in times of a national emergency.
On September 23, 2011, children, without warning, were abducted from their Denver schools by FEMA and taken to the Colorado Sports Authority football stadium. At my son's middle school, we cannot even have my son's aunt pick him unless she is registered with the school and shows identification. Yet, FEMA can literally abduct children from their schools without parental permission or notification? This is outrageous! Here was Aaron Dyke's report on this event.
FEMA Camp Policies Are Incrementally Being Implemented at NFL Stadiums
At Arrowhead Stadium, home to the NFL Kansas City Chiefs, we see the segregation of women from other fans entering the stadium. Now, why would the officials at Arrowhead Stadium institute such a policy? Simple, they are conditioning the public to accept being separated from one another. What my insider sources tell me is that the future martial law detention camps will consist of men in one camp, women in another and children in a third camp.
Major League Baseball Joins the Tyranny
It is not just the NFL that is violating the Fourth Amendment rights of every fan who attends one of their games.
Have you ever tried to sneak a pressure cooker under your coat into a sports contest? That is the illogic of their reasoning. The DHS is using the Boston Marathon bombing as the justification to impose these policies. All venues are now required to subject fans to hand-held metal detection sweeps or walk-through magnetometers, a result of the Department of Homeland Security's encroaching relationship with professional sports leagues, martial law will be in evidence even when you do something innocent like attend a baseball game. The MLB events will soon resemble the TSA at the airport.
The NBA and the NHL have followed suit.
Conclusion
The ammunition and needed support vehicles have been prepositioned in preparation for detaining millions of Americans under Ebola quarantine. The needed temporary facilities which would be needed to house tens of millions of Americans have been put into play with specialized agreements between FEMA, DHS and the needed entities.
The legal structure to forcibly detain Americans, without provocation, has been set into place.
In the next article, I will explore where the medical martial law occupation force will come from and the more permanent detention facilities will be identified in terms of scope and mission with regard to the coming Ebola quarantine zones.
Dave Hodges is the Editor and Host of The Common Sense Show.