How much support for the Islamic State is there among Muslims in the U.S.? No one knows, because the politically correct line is that there is none, and that line cannot be questioned or even examined despite the number of American Muslims who are currently waging jihad for the Islamic State in Iraq and Syria.
Has anyone checked Obama's desk for black markers?
"ISIL Graffiti Showing Up in DC," Washington Free Beacon, October 7, 2014:
take our poll - story continues below
Completing this poll grants you access to DC Clothesline updates free of charge. You may opt out at anytime. You also agree to this site's Privacy Policy and Terms of Use.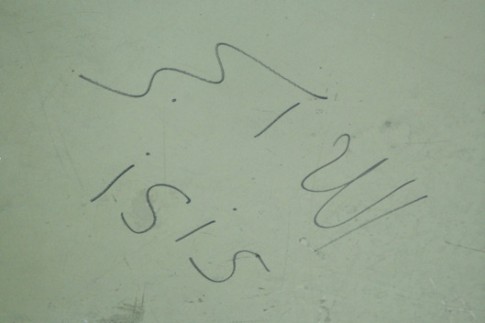 BY: Washington Free Beacon Staff 
ISIL graffiti has been spotted in several places around Washington, D.C.
The vandalism appears to be "Allahu Akbar" written in Arabic followed by ISIS written in English, according to the Daily Intelligencer's Marin Cogan.
On Friday, I noticed something I don't remember seeing before: ISIS-related graffiti around my Northwest Washington neighborhood.
D.C. resident Ilhan Tanir also tweeted another example of similar ISIL graffiti.
this graffiti: "Allahu Akbar, ISIS" photo taken at N st & Connecticut, NW DC. 10 days ago. #disturbing v @jenn_ruth pic.twitter.com/ZNA8AfF2Gt

— ilhan tanir (@WashingtonPoint) October 6, 2014
Other Islamic graffiti has been spotted as well, Cogan says.
There are more, which say "by the permission of God" in Arabic and "CIA" in English, but it's difficult to interpret what, if anything, they might mean.
The FBI is reportedly aware of the graffiti and is asking anyone who comes across some to report it to them or local police.
Courtesy of Pamela Geller.