A lot of people start to feel down this time of the year, and they don't realize that there are millions of others that are going through the exact same thing.  The following excerpt from a Psychology Today article explains that this is something that happens every Christmas season…
take our poll - story continues below

Completing this poll grants you access to DC Clothesline updates free of charge. You may opt out at anytime. You also agree to this site's Privacy Policy and Terms of Use.

We are told that Christmas, for Christians, should be the happiest time of year, an opportunity to be joyful and grateful with family, friends and colleagues. Yet, according to the National Institute of Health, Christmas is the time of year that people experience the highest incidence of depression. Hospitals and police forces report the highest incidences of suicide and attempted suicide. Psychiatrists, psychologists and other mental health professionals report a significant increase in patients complaining about depression. One North American survey reported that 45% of respondents dreaded the festive season.
So when we get depressed, what do we do?
Well, we do what we always do for depression.
We start popping pills.
Today, America is the most drugged up nation on the face of the Earth by a wide margin.  Just consider the following numbers…
-Americans account for about five percent of the global population, but we consume more than 50 percent of the pharmaceutical drugs.  At the moment, the number one selling pharmaceutical drug in America is called Thorazine.  It is used as a supplement to other antidepressant drugs.
–According to the New York Times, more than 30 million Americans are currently taking antidepressants.
-The number of people that are clinically diagnosed with depression is growing at a rate of 20 percent annually.
–The rate of antidepressant use among middle aged women is far higher than for the population as a whole.  It is hard to believe, but right now one out of every four women in their 40s and 50s is taking an antidepressant medication.
-The percentage of women taking antidepressants in the United States is significantly higher than in any other country in the world.
-Children in the United States are three times more likely to be prescribed antidepressants than children in Europe are.
–If all of these antidepressants are helping, then why are more Americans killing themselves?  The suicide rate for Americans between the ages of 35 and 64 increased by nearly 30 percent between 1999 and 2010.  The number of Americans that die by suicide is now greater than the number of Americans that die as a result of car accidents every year.
Sadly, most Americans have absolutely no idea that the latest scientific studies indicate that many of these drugs could actually be quite dangerous.
For example, one recent study found that children that take antidepressants are more likely to attempt suicide…
High doses of brain-altering chemicals marketed as "anti-depressants" increase the likelihood of self-harm, rather than decreasing the risk, say Harvard health scientists in a study that analyzed data on 162,625 people.

Drugs known as selective serotonin reuptake inhibitors (SSRI's) may raise the risk of suicidal behavior in children and young adults, according to the analysis. SSRI's are the chemical substances which make up the antidepressants Prozac and Zoloft.

"Our findings offer clinicians an additional incentive to avoid initiating pharmacotherapy at high-therapeutic doses," Harvard School of Public Health researchers said.
Another recent study found that pregnant mothers that take antidepressants are more likely to have babies with brain defects…
Almost one in five children born to mothers taking antidepressants during pregnancy have a brain defect – called a "Chiari type 1 malformation" – according to a groundbreaking study by researchers at the University of North Carolina at Chapel Hill.

The study, titled Rate of Chiari I Malformation in Children of Mothers with Depression with and without Prenatal SSRI Exposure, was published May 19 in the peer-reviewed journal Neuropsychopharmacology.

The researchers found that "children of depressed mothers treated with a group of antidepressants called selective serotonin reuptake inhibitors (SSRIs) during pregnancy were more likely to develop Chiari type 1 malformations than were children of mothers with no history of depression," according to their press statement.
Perhaps popping pills is not the solution after all.
If you are battling depression, one of the key things to do is to look at your diet.  What we eat and what we drink plays a massive role in how we feel and how our brain functions.  If you start eating better, your life will improve in a multitude of ways.
And certainly there are natural ways to battle depression.  If you want to learn more about this, Natural News has some great articles on the subject.
But more important than all of those things is the fact that most Americans today simply do not have anything to live for.
These days, most people just seem to be living for themselves.  They chase one form of entertainment after another, hoping that something will eventually fill the gaping holes that are constantly aching inside their hearts.  Many go to their graves never finding the fulfillment that they were desperately searching for all of their lives.
You have got to have something to live for that really matters.  That is something that I have found, and it has made all the difference.  No matter how broken your life is right now, the key is to never, ever, ever give up.  As long as you keep fighting, there is always hope that things can be turned around.
So don't give in to depression this Christmas season.
Yes, this world is an incredibly messed up place.
Yes, things are going to get a lot worse in the years ahead.
But that doesn't mean that the future has to be bleak for you.
The best chapters of your life could be right around the corner, so don't you ever, ever give up.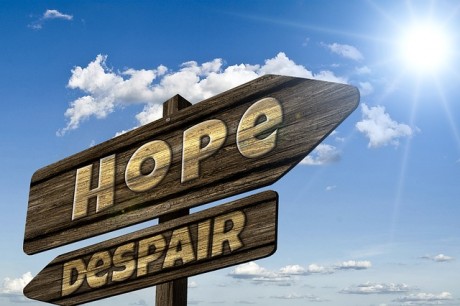 Courtesy of End of the American Dream.