A damning email from Lois Lerner to David Fish and Nikole Flax proves beyond a shadow of a doubt that the "crashed" hard drives was not accidental but a planned plot to destroy evidence of criminal wrongdoing.  In the email, Lerner expresses fear that no one would believe that would believe them if they claimed their computers crashed within a week of each other:
"No one will ever believe that both your hard drive and mine crashed within a week of each other."
take our poll - story continues below
Completing this poll grants you access to DC Clothesline updates free of charge. You may opt out at anytime. You also agree to this site's Privacy Policy and Terms of Use.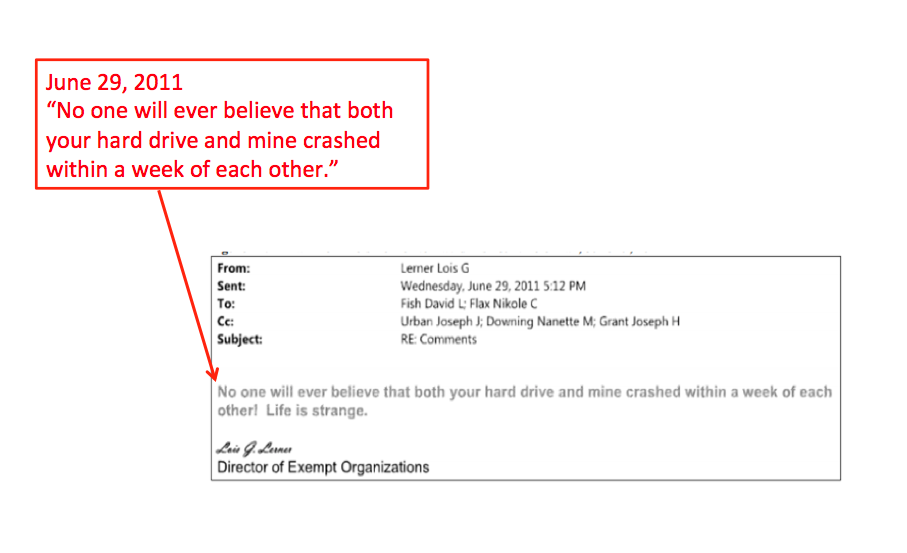 Timothy Camus, inspector general for the treasury department told the House Oversight Committee that they are now investigating illegal activity as it applies to the IRS and the email participants.  Camus also said:
"To date, we have found 32,744 unique emails that were backed up from Lois Lerner's email box. We are in the process of comparing these emails to what the IRS has already produced to Congress to determine if we did in fact recover any new emails."
He also testified that the process was on hold as they straightened out a problem with the software licensing, which is expected to be resolved very soon.  The software is used to sort through and find duplicate emails.  The emails were found in a warehouse in West Virginia.  Camus was told that he was the first one to inquire about the tapes, directly conflicting with sworn testimony from John Koskinen, Obama's handpicked head of the IRS cover up squad.
Jason Chaffetz, chairman of the House Oversight Committee had the following exchange with Mr Camus:
Chaffetz was stunned when he asked Camus if anyone from the IRS had ever asked for the backup tapes and he replied, "No."

"We send a subpoena, we send letters, we have hearings, we hear all kinds of excuses from the IRS," Chaffetz said. "Every excuse you can have under the sun — you find them in two weeks, and then when you go talk to the IT people who are there in charge of them, they told you that they were never even asked for them. Is that correct?"

"That is correct," Camus replied.
Democratic Rep Carolyn Maloney said that the hearings are a waste of taxpayer dollars.  I say waste it, baby, waste it.
Courtesy of Red Statements.