Below, are charts which will demonstrate that the American economy, and that of the world, is teetering on collapse. Martial law activities are increasing in size and intensity in preparation for the collapse. Communities, such as Big Spring, TX, are being terrorized by presumed Jade Helm personnel practicing their "stealth" intrusions as previously discussed in several articles.
After covering the Jade Helm fiasco for nearly two months, it is clear that as the economy falls, the threats posed by Jade Helm activities (i.e. political dissident extractions) will increase in a corresponding manner.
ECONOMIC FREE FALL
take our poll - story continues below
Completing this poll grants you access to DC Clothesline updates free of charge. You may opt out at anytime. You also agree to this site's Privacy Policy and Terms of Use.
Not since the Great Depression has America witnessed a retail business free fall like the one we are witnessing today. The catastrophic economic conditions are eating through the final firewalls of protection. The collapse has already happened, the manifestation of this collapse could occur at any time. You could awaken tomorrow and find that your life savings is gone. Do you now understand why the courts have ruled that banks own your money when you deposit it? Isn't it now painfully clear why your banking officials and UK banking officials practiced for a banking disaster on November 10, 2014?
The figures below demonstrate that a retail collapse is underway. This collapse will not occur in isolation. When the Targets go away, so will the banks who underwrite their operations. The truckers supporting these retailers will disappear as well. The lack of trucking resources and the inability to fund shipping on a large scale will lead to massive food shortages. Massive food shortages always degenerate into civil unrest. Civil unrest, on a national scale, requires military intervention. And this is where Jade Helm enters the picture. As the economy falls, the need for Jade Helm martial law enforcement will rise. (Editor's Note: Numbers to left are expected store closings. Source.)
180 Abercrombie & Fitch (by 2015)                          
75 Aeropostale (through January 2015)
150 American Eagle Outfitters (through 2017)      
223 Barnes & Noble (through 2023)
265 Body Central / Body Shop                                   
66 Bottom Dollar Food
25 Build-A-Bear (through 2015)                                  
32 C. Wonder
21 Cache                                                                          
120 Chico's (through 2017)
200 Children's Place (through 2017)                         
17 Christopher & Banks
70 Coach (fiscal 2015)                                                   
70 Coco's /Carrows
300 Deb Shops                                                                
92 Delia's
340 Dollar Tree/Family Dollar                                      
39 Einstein Bros. Bagels
50 Express (through 2015)                                          
31 Frederick's of Hollywood
50 Fresh & Easy Grocey Stores                                  
14 Friendly's
65 Future Shop (Best Buy Canada)                         
54 Golf Galaxy (by 2016)
50 Guess (through 2015)                                              
 26 Gymboree
40 JCPenney                                                                
127 Jones New York Outlet
10 Just Baked                                                                
28 Kate Spade Saturday & Jack Spade
14 Macy's                                                                     
400 Office Depot/Office Max (by 2016)
63 Pep Boys ("in the coming years")                     
100 Pier One (by 2017)
20 Pick 'n Save (by 2017)                                       
1,784 Radio Shack
13 Ruby Tuesday                                                        
77 Sears
10 SpartanNash Grocery Stores                              
55 Staples (2015)
133 Target, Canada (bankruptcy)                              
31 Tiger Direct
200 Walgreens (by 2017)                                           
10 West Marine
One look at the following S&P 500 chart from Bloomberg and it is very difficult to conclude anything except the bottom has fallen out of the economy and we are waiting for nature to take its course and collapse the entire economy. Hope and change has finally reached its final objective. The American economic system is finished.
The Baltic Dry Index
Universally, the Baltic Dry Index (BDI) is considered to be the most accurate economic indicator of national and world economic health. The Baltic Dry Index has officially hit rock bottom with unprecedented lows. Readers may recall that the BDI was crashing in the first quarter of this year.
The forces behind the Trans Pacific Partnership (TPP) effectively used their influence to greatly stall the delivery of critically important commodities until the TPP is fully implemented among its member nations. From November of 2014 to March of 2015, the BDI indicated that the U.S. and the world, as a whole, was on the verge of an economic collapse. We were, indeed, days away from a full-blown collapse when product finally moved through the ports. This release of goods, prevented an immediate collapse, but these events did permanent and irreversible damage to the economy. The dominoes of these events are falling and it is showing in S&P 500 (pictured above) and in the continued crash of the BDI. Please view the charts which show the collapse of the BDI. Then watch the video that implicates the forces behind the TPP as the perpetrators of this crisis.
Save what you can because the economy is breathing its last few breaths.
The Following People Must Be Crazy According to Fox and Friends
As we assess where the economy is going, which is in the proverbial toilet, it is important to realize that when the economic effects are finally realized in their complete totality, we will undoubtedly see martial law troops in the street. Now, there is some evidence that extraction drills are becoming more real than the Jade Helm apologists at Fox and "Friends", NPR and KHOU TV (Houston) would have the public believe.
Take a look at the following two emails sent to me. These are typical of the endless stream of emails I am receiving everyday.
___
Dave

On May 14, 2015, at approximately 6:00pm, my four dogs began barking in a loud and angry fashion.  I stepped onto my front porch and saw two men about to enter my property through my yard gate.  I ordered them to stop and asked who they were?  They replied that they were from the electric company and they needed to talk to me because my contract was about to expire.  My contract with TXU expires on May 1, 2016.  I asked what electric company and they said something that sounded like "real" electric company.  I ordered them to leave immediately and after some hesitation, they began walking down my 50 yard long driveway.

Here are the incident facts:

2 men in their mid to late 20's that were in excellent shape.

They did not drive a vehicle down my driveway, they walked.

They were wearing navy blue shorts, a white pullover shirt with blue stripes and some sort of navy blue patch.

It was at 6:00pm.

One man was African American the other Mexican or Middle Eastern.

They carried no paperwork or briefcase.  They had nothing.

I live near Big Spring Texas and I know that the NSA is aware of my disgust with this president and government.  My phone calls have been interrupted on several occasions by the NSA.

After they started walking away I went in and got my camera but when I went to my driveway they were gone.

I called my power company and they said they would never send anybody out unless it was prearranged.

When I ordered them to leave, the Mexican pointed his finger at me and mumbled something.

So, you have two men in their 20's in excellent shape arriving on foot to my property at 6:00pm to "discuss" my electric contract, wearing a clown like uniform, not driving a company vehicle, no tools, paper or briefcase, and disappearing almost immediately.

I grew up on Air Force bases until age 19.  I spent 21 years working for the US Department of Justice, I saw Jade Helm agents all over them.  It was so obvious that a blind man wouldn't miss it.  They were part of the undercover section of this martial law take over.

My assessment is that they came to determine what they would need to take me down.  It became obvious to them that I will not go quietly or at all.  I have let some people know that if I disappear or die in an accident, the government is responsible.

____

Dear Dave Hodges,

Thanks for all that you do. I pray for the safety of you and your family. I am a widow and on May 13the about 5pm, I caught three men snooping around my property. I live in the Big Springs, Texas area and these kinds of sightings are common place.  I might be old (68 yo), but I know how to shoot about every gun that has ever been made. I went outside with a shotgun and confronted these Jade Helmers. They were dressed the same in white t-shirt and blue shorts. The reminded me of circus clowns.  I asked them what they were doing and they said they were from my power company and they looking for a gas leak. I told them they have 5 seconds to make it to their car or I was going to defend my home. They laughed at me but left.  I called the sheriff and they told me on the phone that these men were from the government and that I should not be pulling guns on them.  How did they know I had a gun because I did not tell them.  Our deputies must be working with these trespassers. Dave, we are being invaded and I swear I will shoot them if they come back…
______
Do you think this is a fabrication or these people are lunatics as much of the lame stream media are saying? Then, you should take a look at this screen shot from Channel 9 in Big Spring, TX.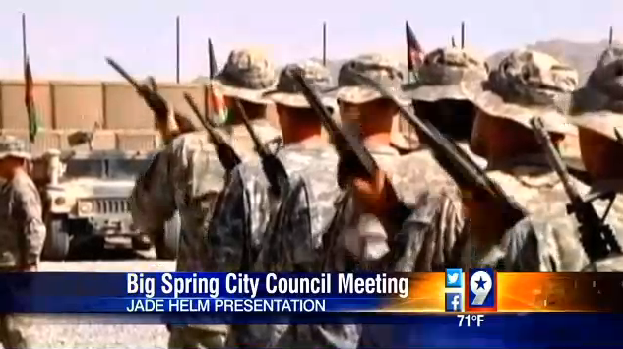 The first email author has left me his name and phone number. I am arranging a cameo appearance on my show so that he can better tell his story. I am withholding his name for the time being because I do not want the forces of intimidation to stop the interview from happening.
Now, are these two Big Spring, Texas area residents crazy, or are they seeing what is part of Jade Helm?
See Something, Say Something
A Houston Chronicle report stated that Jade Helm soldiers will blend in with the local populations in an effort to test the effectiveness of infiltration techniques. Residents will be encouraged and commanded to report anything they deem suspicious, to the authorities, during the Jade Helm drill.
This is why America is frightened.  This is why we need to push back now. The more noise we make the better chance we have of stopping Jade Helm. Also, whenever you see a "tin foil hat" report about Jade Helm, you should contact that station/network and tell them why you will never watch them again. Start with Fox and Friends, they are the champions of the "giggle factor".
Dave Hodges is the Editor and Host of The Common Sense Show.