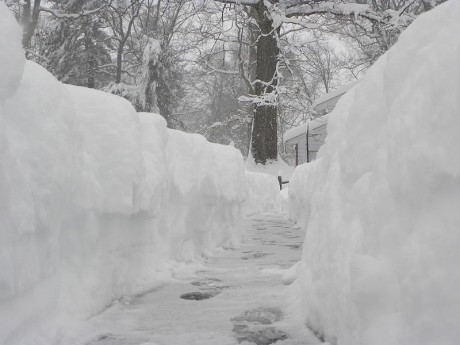 If this is how crazy people are going to become when a big snowstorm arrives, what do you think they are going to do when a real disaster strikes? Washington D.C. is about to be hit by one of the worst blizzards that it has ever experienced this weekend, and people are already beginning to panic. It is being projected that there could be up to 30 inches of snow in some areas, and wind gusts of up to 60 miles an hour will cut visibility to almost nothing and will make travel next to impossible. Along the east coast, more than 50 million people could be affected by this storm, and many of them don't have a lot of food and supplies on hand. So we have been seeing things like bread, milk and batteries fly off of store shelves all throughout the region, and at this point many stores are already completely wiped out.
Without a doubt, this is going to be a very powerful storm. In fact, some are suggesting that it could potentially be the worst one that D.C. has seen in all of modern history. If you live in the area, you probably already know that the National Weather Service has officially issued a blizzard warning…
The National Weather Service in Baltimore MD/Washington has issued a Blizzard Warning… which is in effect from 3 PM Friday to 6 am EST Sunday. The blizzard watch is no longer in effect.

take our poll - story continues below

Completing this poll grants you access to DC Clothesline updates free of charge. You may opt out at anytime. You also agree to this site's Privacy Policy and Terms of Use.

* Hazard types… heavy snow and wind with blowing and drifting snow Friday afternoon through Saturday night. Sleet may mix with the snow Friday night into Saturday morning east of Interstate 95 before changing back to all snow by Saturday afternoon.

* Accumulations… snow accumulation of 18 to 24 inches in the eastern suburbs of Washington DC… and 24 to 30 inches in the western suburbs. The city of Washington DC is expected to receive around 24 inches.

* Timing… heavy snow will develop late Friday afternoon and continue through Saturday night. Conditions are expected to deteriorate Friday afternoon with the heaviest snow… strongest winds… and potential life threatening conditions expected Friday night through Saturday.

* Impacts… heavy snow and blowing snow will cause dangerous conditions and will be a threat to life and property. Travel is expected to be severely limited if not impossible during the height of the storm Friday night and Saturday. Visibility will be reduced to near zero at times in whiteout conditions.
I once lived in the region, and normally people would start freaking out and raiding the stores about 12 hours in advance. But this time it started happening two or three days ahead of time. The following comes from Reuters…
Grocery store shelves were being stripped of bread, milk and other essentials as millions of residents in the storm's path prepared to hunker down for a wintry weekend. Consumer watchdogs warned against illegal price gouging for such essentials as generators, batteries, flashlights and hotel lodging.
Lots of pictures of empty grocery store shelves have already been posted to Twitter. Here is one example…
Oh, DC. Never change. My grocery store dairy case two days BEFORE #snowmaggedon2016 @capitalweather pic.twitter.com/fqkqd9BXUD

— Steven Harris (@HarrisStevenJ) January 21, 2016
And here is another example from the ABC News affiliate in Washington…
The bread aisle at Giant on Washington Blvd. in Arlington tonight. #snowmaggedon2016 pic.twitter.com/6E9IKeBe2Y

— ABC 7 News – WJLA (@ABC7News) January 21, 2016
For many more photos, please see this article from Infowars.com.
To me, this kind of event gives us hints of what life will be like when we do see a truly historic national emergency. When people start to panic, they start hoarding the things that they think they will need, and food and basic supplies very quickly disappear from store shelves.
What that day arrives, will you be prepared?
Personally, my wife and I have been preparing for years, and I even helped write an entire book about prepping. But moments like this should cause all of us to really take another look at how prepared we really are.
You see, the truth is that you aren't just preparing for yourself and your family. When things get really crazy, close friends and members of your extended family that have not bothered to do anything to prepare are going to come knocking on your door.
When that happens, what are you going to do?
I know that I could not send them away, but I know that there are preppers out there that plan to do exactly that.
Since I cannot turn away close friends and members of my extended family, I have to make preparations for them as well. All of them are going to need food, water, and basic supplies, and my hope is that we will have enough for all of them.
In addition to food and water, there are many other items that we all need to be thinking about storing away right now while we still can. These are some of the things that I suggested in a previous article…
–Blankets
–Warm Clothing
–Gloves
–Extra Flashlights
–First Aid Kits
–Lighters
–Matches
–Duct Tape
–A Shovel
–A Tent
–Knives
–Mylar Blankets
–Body Armor
–Salt
–Propane
–Vitamins
–An Axe
–A Can Opener
–A Battery-Powered Radio
–Extra Batteries
–A Fire Extinguisher
–A Sewing Kit
–A Tool Kit
–Comfortable Shoes Or Hiking Boots
–A Map Of Your Area
–A Compass
–Sleeping Bags
–Candles
–A Camp Stove
–An LED Headlamp
–Lightsticks
–Heirloom Seeds
–Clorox
–Wood Socks, Sweaters And Mittens
–Personal Hygiene Items
–Ziplock Bags
–A Watch Or Some Other Way To Tell Time
–Extra Copies Of Your Financial Records
–Spare Glasses
–Prescription Medications
Perhaps you think that I am being overly dramatic.
But just imagine what your life would be like if you had to endure a major disaster that lasted for months or even years without being able to resupply yourself at the stores.
Would you be able to survive?
I find it very interesting that the winter storm that is about to slam into the D.C. region has been given a name. It is being called "Jonas", which is a Greek transliteration of the Hebrew name "Jonah".
Jonah, of course, was the Biblical prophet that was sent to warn Ninevah that the judgment of God was about to come to that city.
So could the fact that a historic storm named "Jonas" is about to hit Washington D.C. have any special significance?
Please tell us what you think by posting a comment below…
Courtesy of End of the American Dream.