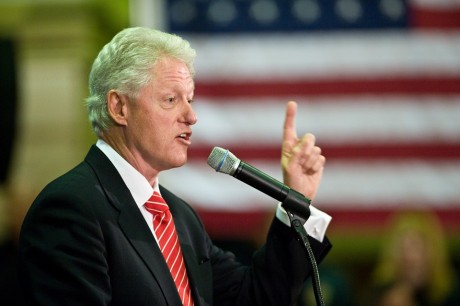 When dozens of women came forward to accuse Bill Cosby of rape, most Americans believed them, so why is Bill Clinton getting a free pass when a similar number of women are accusing Bill Clinton of sexual misconduct?  As you will see below, new allegations continue to come out, and it has become exceedingly clear that Clinton is still chasing women that he is not married to even though his wife is in the middle of a presidential campaign.  Of course Hillary Clinton knows exactly what is going on, and she has been serving as his enabler by doing all that she can to cover up Bill's escapades whenever one of these "bimbo eruptions" happens.  Ultimately, Bill and Hillary Clinton have together victimized countless numbers of women, and yet public opinion polls continue to show that most women voters plan to vote for Hillary Clinton in November.  It is hard even for me to believe that our country has sunk so low at this point.
This list of Bill Clinton's accusers is seemingly endless: Kathleen Willey, Connie Hamzy, Juanita Broaddrick, Eileen Wellstone, Sandra Allen James, Christy Zercher, Paula Jones, Monica Lewinsky, Gennifer Flowers, Elizabeth Ward Gracen, Sally Perdue, Lencola Sullivan, Susie Whitacre, Bobbie Ann William, etc.
But now new information is coming to the surface.  Just recently, one of Bill Clinton's former lovers named Dolly Kyle has made global headlines by claiming that Bill Clinton is a "sex addict" that has had sex with approximately 2,000 women…
take our poll - story continues below

Completing this poll grants you access to DC Clothesline updates free of charge. You may opt out at anytime. You also agree to this site's Privacy Policy and Terms of Use.

Hillary Clinton is not only an "enabler," she is a "terrorist" who "terrorizes" her husband's alleged lovers and women who accuse him of sexual assault, says Dallas lawyer Dolly Kyle, who says she had a long-running affair with Bill Clinton.

In an interview, Kyle claimed that "Billy" Clinton, as she called him, once boasted to her that he had had sex with about 2,000 women. She described Clinton as a "sex addict" who has some "sick, sick need" to "control women."
And Kyle is quite credible.  She is an attorney, her family has ties to the Clinton family that go back to the 1970s, and she reportedly had an extramarital sexual affair with Bill that lasted for more than a decade…
ABC News previously summarized Kyle's affair allegations (at the time she went by the name Dolly Kyle Browning):

Browning says she went to high school with Bill Clinton… in Hot Springs, Ark. in the 1960s. She alleged she became friends with the future president and carried on an extramarital sexual affair with him from the mid-1970s until roughly 1991.

Kyle's family has long been intertwined with the Clinton's, she says. Her brother was a Clinton associate who helped campaign for Bill Clinton from the 1970's through his presidential run and even flew him to multiple  events in the 1970's, Kyle stated.

Kyle is the author of the forthcoming book, "Hillary the Other Woman: A Political Memoir."  The book's forward is written by David P. Schippers, an attorney who served as chief investigative counsel for the U.S. House Judicial Committee for the Clinton Impeachment.
To me, it is amazing that what we already know about the Clintons has not completely ended both of their political careers.  What they have been able to collectively get away with is absolutely incredible.
And because nobody ever holds them accountable, they just continue to engage in the exact same behaviors.
For instance, even though Bill knew that Hillary would be running for president, he has continued to engage in very high risk behavior.  The following comes from the New York Post, and it is about one of Bill's new "friends" known as "the Energizer"…
Secret Service agents were even given special instructions to abandon usual protocol when the woman came by, according to journalist Ronald Kessler's tell-all book, "The First Family Detail."

"You don't stop her, you don't approach her, you just let her go in," says the book, based on agents' accounts.
And it turns out that Bill Clinton's foundation committed a major boo-boo by funneling two million dollars to a company that is partially owned by "the Energizer"…
Bill Clinton's foundation arranged a $2 million pledge to a power company partly owned by a wealthy blond divorcée — who some say is the frequent visitor to his home nicknamed "Energizer."

The "commitment" to Julie Tauber McMahon's firm from the Clinton Global Initiative was placed on its 2010 conference agenda at Clinton's urging, the Wall Street Journal reportedon Thursday.
Meanwhile, it is being reported by Fox News that Bill Clinton took "at least 26 trips" aboard a private jet that was owned by a registered sex offender named Jeffrey Epstein that was widely known to be a pedophile…
Former President Bill Clinton was a much more frequent flyer on a registered sex offender's infamous jet than previously reported, with flight logs showing the former president taking at least 26