Since the beginning of the year, the political election process has exposed Americans to more corruption and vote rigging than at any time in history.
Beginning in Iowa and eventually getting blown wide open in Arizona, the fraud and suppression of votes have let Americans know that their rulers are selected not elected.
take our poll - story continues below
Completing this poll grants you access to DC Clothesline updates free of charge. You may opt out at anytime. You also agree to this site's Privacy Policy and Terms of Use.
In Iowa, to break the supposed ties between Clinton and Sanders, the precincts held actual coin flips to decide this most crucial primary of the cycle. Clinton won all 6.  However, the video below clearly shows Sanders winning at least one of those coin flips that was credited to Clinton.
But it doesn't stop there, the fraud was so rampant and on display that a C-SPAN video even caught it.
As the primary moved to Nevada, another blatant act of election rigging was captured on video. As a poll worker tries to stop them from entering before they are registered, dozens of voters, wearing Clinton T-Shirts, walked right past the caucus registration booth to participate in the caucus. They never registered.
https://www.youtube.com/watch?v=2Ug9hHe_iZg
In March, Clinton brought in her husband to break the law for her, giving her an upper hand at polling sites during the Massachusetts primary.
Bill Clinton blatantly violated Massachusetts election law that states campaigning within 150 feet of a polling site on election day is a felony, as reported by KTAR News. Not only did Bill Clinton campaign well within 150 feet of multiple election sites during voting hours causing gridlock, he even entered polling sites, with his security detail effectively shutting down the voting while the former president was present.
Another dysfunctional disaster unfolded in Arizona which led to even more people waking up to the fraud. The election rigging was so obvious that a hearing was held the following week in the House Gallery to discuss possible courses of action to correct it.
In April, during that hearing on the election challenge, a Maricopa County poll worker testified the computer system she used to check in voters would not allow her to give the correct ballots to voters.
The testimony from Dianne Post confirmed the rampant voter suppression and election rigging which led to the hearing taking place. Post, who is an attorney in Maricopa County, testified a machine she was using to check in voters at a location failed to give 36 people the proper ballot.
It gets worse.
According to Post, another 22 people at her location were listed in the wrong party and their polling place ran out of ballots for at least two congressional districts.
"Every single time it happened to me it was a Democratic voter who wasn't able to access a Democratic ballot," she said.
Post was only one person in one station, the allegations of suppression spread throughout the state.
While these overt and obvious scams were all caught on video or witnessed by multiple people, according to a new report by CounterPunch.org, there is a far more insidious scenario unfolding behind the scenes.
According to their report, CounterPunch has interviewed hackers, academics, exit pollsters, and elections officials and workers in multiple states for this series taking election fraud allegations seriously.
What their report found is a well-beyond remarkable gap between what security experts and academics say about the vulnerability of voting machines and the confidence elections experts and academics, media outlets, and elections officials place in those same machines.
According to the report, Hillary Clinton fairs the best in primaries where voting machines flunk hacking tests.
Counter Punch compared exit polls with actual results and what they found was stunning.
Entering the South Carolina primary, the pledged delegate count was 52-51. CNN's poll two weeks out projected an 18 point Clinton win. Ann Selzer, the best pollster in the United States, projected a 22 point Clinton win. RealClearPolitics' polling average projected a 27.5% win. FiveThirtyEight was much bolder in projecting a 38.3% Clinton win. The early full exit poll said Clinton had won by 36%, pretty close to FiveThirtyEight's call. Tellingly, white people in that exit poll went for Sanders 58-42. But the final results said Clinton won by 47.5%, an 11.5% exit polling miss. And the exit polls had to adjust their initial figures to a 53-47 Clinton win with white Democrats in South Carolina.

Three days after South Carolina's primary, Clinton seriously outperformed her exit polling projections again in a bunch of states on Super Tuesday, including Massachusetts where she went from a projected 6.6% loss to a 1.4% win. Super Tuesday set the narrative that Sanders had no chance of beating Clinton in pledged delegates.

Of the nine places where the exit polling has missed by more than 7% (South Carolina, Alabama, Georgia, Massachusetts, Tennessee, Texas, Mississippi, Ohio, New York), two-thirds are states where all or the majority of election jurisdictions are using machines ten years old or greater. For these six states the average initial exit polling miss is a whopping 9.98%.
The same states where Clinton blew away the exit polling numbers, happen to be the same states with old, vulnerable, and easily hackable voting machines.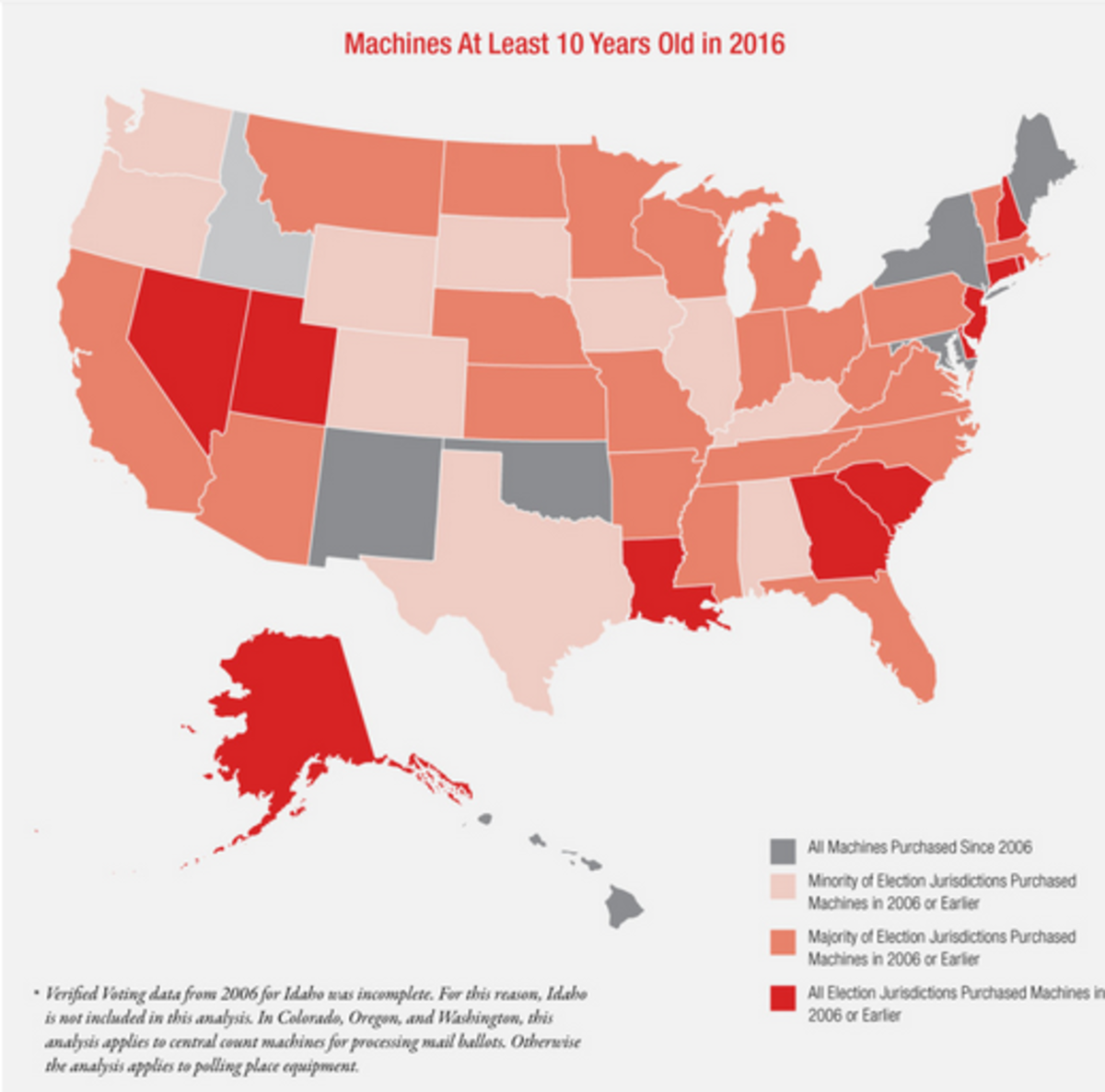 Of course, correlation does not equal causality. That being said, however, hackers and officials have admitted to taking steps which make Clinton's luck in beating her exit poll numbers in such a rare way — a guarantee.
In 2006, the documentary Hacking Democracy exposed Diebold and their role in rigging elections with their electronic voting machines.
Clinton Eugene "Clint" Curtis is an American attorney, computer programmer and ex-employee of NASA and ExxonMobil, who also exposed election hacking.
Curtis is notable chiefly for making a series of whistleblower allegations about his former employer and about Republican Congressman Tom Feeney, including an allegation that in 2000, Feeney and Yang Enterprises requested Curtis's assistance in a scheme to steal votes by inserting fraudulent code into touch screen voting systems.
Curtis is seen in the video below testifying under oath in front of the U.S. House Judiciary Members in Ohio.
He tells the members how he was hired by Congressman Tom Feeney in 2000 to build a prototype software package that would secretly rig an election to sway the result 51 / 49 to a specified side.
After watching the video, you'll know why true change is hard to come by.
Matt Agorist is an honorably discharged veteran of the USMC and former intelligence operator directly tasked by the NSA. This prior experience gives him unique insight into the world of government corruption and the American police state. Agorist has been an independent journalist for over a decade and has been featured on mainstream networks around the world. Follow @MattAgorist
Courtesy of The Free Thought Project