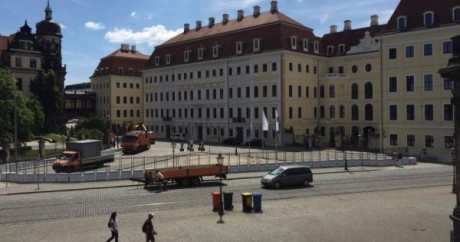 Later this week, dozens of the most important men in the world are going to gather at an ultra-luxury hotel in Dresden, Germany to discuss the future of the planet.  What will happen at this meeting will not be televised, and the mainstream media in the United States will almost entirely ignore it, but decisions will be made at this conference that will affect the lives of every man, woman and child on the entire globe.  Of course I am talking about the Bilderberg Group, and for decades you were labeled a "conspiracy theorist" if you even acknowledged that it existed.
Every year since 1954 the elite of the world have gathered at this time of the year to "discuss global events", and since the Bilderberg Group operates under Chatham House Rules, everyone that participates is banned from revealing what goes on during the conference.
But what takes place at these conferences really matters.  For example, it has been documented that the Bilderberg Group played a key role in the development of the European Union and in the decision to create the euro.
take our poll - story continues below
Completing this poll grants you access to DC Clothesline updates free of charge. You may opt out at anytime. You also agree to this site's Privacy Policy and Terms of Use.
The elitists that attend these meetings are not the kind of people that would waste their time having tea and exchanging small talk.  The list of previous attendees includes Bill Clinton, Hillary Clinton, George H.W. Bush, Prince Charles, David Cameron, Tony Blair, Henry Kissinger, Bill Gates, Angela Merkel, Ben Bernanke, Timothy Geithner, Rick Perry, David Rockefeller and Joe Biden.  I have included a list of those attending Bilderberg this year at the end of this article.
The Taschenbergpalais Hotel In Dresden has been transformed into a heavily armed camp for this year's conference, which only adds to the aura of mystery surrounding Bilderberg.  The following comes from the Guardian…
You know Bilderberg's about to begin when you start seeing the guns. The Taschenbergpalais hotel in Dresden is filling up with pistol-packing plainclothes security as the last guests are ushered out. The frowning gunslingers head up and down the corridors with their hotel maps, trying door handles and checking the lay of the land while, down in the hotel lobby, corporate goons gather in muttering huddles.

I don't know why everyone's so antsy. According to the local newspaper DNN, at least 400 police officers will be surrounding the venue for the three days of the talks. There's already a ring of concrete blocks around the entrance. Is that not enough? What are they expecting? The charge of the light brigade?
So what precisely is going on that is so incredibly important that it needs such protection?
Well, the following list of "key topics" for discussion at this year's conferencecomes directly from the official Bilderberg website…
Current events
China
Europe: migration, growth, reform, vision, unity
Middle East
Russia
US political landscape, economy: growth, debt, reform
Cyber security
Geo-politics of energy and commodity prices
Precariat and middle class
Technological innovation
The term "precariat" definitely caught my attention.
I didn't know what that term meant, so I had to look it up.  Here is how one source defines it…
The precariat is similar to the blue-collar workers of yesteryear in that they earn less than what Standing calls the salariat, but they are unique in that workers in manufacturing jobs, for instance, tended to have job security, benefits, and often union protection (which played a large part in the presence of the first two). Today's precariat usually has none of that, and spans income and education levels, from sub-minimum-wage illegal migrant work and low-wage retail or service work to highly educated but contract- and freelance-dependent industries (like, ahem, journalism). Members of the precariat also, unlike their working-class forebears, have to put in an alarming amount of work that no one considers "work" or compensates them for.
But of course there will certainly be other things not on the official agenda that will be discussed by the elitists that gather in Dresden.  Two topics that will definitely be on the minds of most attendees will be the upcoming Brexit vote and the Donald Trump phenomenon…
The attendance of anti-Trump Senator Lindsey Graham is an obvious sign that Bilderberg will be scheming on how to prevent Trump from defeating Bilderberg's chosen candidate – Hillary Clinton.

As we reported during last year's conference, Bilderberg was confident that Clinton could shake off her GOP challengers, but Trump's self-funded campaign and his public opposition to globalism and internationalist trade deals like NAFTA has shocked the Bilderberg elitists.

Bilderberg will obviously be discussing Brexit – Britain referendum vote to leave the EU – because it threatens the future of the European Union federal superstate that was the brainchild of Bilderberg in the first place.
Ultimately, key decisions regarding the future of the European Union, U.S. politics and the global financial system will be made at this conference, but we are not supposed to know what takes place at Bilderberg and the mainstream media in the United States has always had a policy of virtually ignoring these meetings.
But some things have changed.  In the past, it always took a good bit of detective work to figure out who was attending these meetings, but in recent years an official list of participants has been published on the Bilderberg website.  Below is the official list for this year.  Do you recognize any familiar names on this list?…
CHAIRMAN
Castries, Henri de (FRA), Chairman and CEO, AXA Group
Aboutaleb, Ahmed (NLD), Mayor, City of Rotterdam
Achleitner, Paul M. (DEU), Chairman of the Supervisory Board, Deutsche Bank AG
Agius, Marcus (GBR), Chairman, PA Consulting Group
Ahrenkiel, Thomas (DNK), Permanent Secretary, Ministry of Defence
Albuquerque, Maria Luís (PRT), Former Minister of Finance; MP, Social Democratic Party
Alierta, César (ESP), Executive Chairman and CEO, Telefónica
Altman, Roger C. (USA), Executive Chairman, Evercore
Altman, Sam (USA), President, Y Combinator
Andersson, Magdalena (SWE), Minister of Finance
Applebaum, Anne (USA), Columnist Washington Post; Director of the Transitions Forum, Legatum Institute
Apunen, Matti (FIN), Director, Finnish Business and Policy Forum EVA
Aydin-Düzgit, Senem (TUR), Associate Professor and Jean Monnet Chair, Istanbul Bilgi University
Barbizet, Patricia (FRA), CEO, Artemis
Barroso, José M. Durão (PRT), Former President of the European Commission
Baverez, Nicolas (FRA), Partner, Gibson, Dunn & Crutcher
Bengio, Yoshua (CAN), Professor in Computer Science and Operations Research, University of Montreal
Benko, René (AUT), Founder and Chairman of the Advisory Board, SIGNA Holding GmbH
Bernabè, Franco (ITA), Chairman, CartaSi S.p.A.
Beurden, Ben van (NLD), CEO, Royal Dutch Shell plc
Blanchard, Olivier (FRA), Fred Bergsten Senior Fellow, Peterson Institute
Botín, Ana P. (ESP), Executive Chairman, Banco Santander
Brandtzæg, Svein Richard (NOR), President and CEO, Norsk Hydro ASA
Breedlove, Philip M. (INT), Former Supreme Allied Commander Europe
Brende, Børge (NOR), Minister of Foreign Affairs
Burns, William J. (USA), President, Carnegie Endowment for International Peace
Cebrián, Juan Luis (ESP), Executive Chairman, PRISA and El País
Charpentier, Emmanuelle (FRA), Director, Max Planck Institute for Infection Biology
Coeuré, Benoît (INT), Member of the Executive Board, European Central Bank
Costamagna, Claudio (ITA), Chairman, Cassa Depositi e Prestiti S.p.A.
Cote, David M. (USA), Chairman and CEO, Honeywell
Cryan, John (DEU), CEO, Deutsche Bank AG
Dassù, Marta (ITA), Senior Director, European Affairs, Aspen Institute
Dijksma, Sharon A.M. (NLD), Minister for the Environment
Döpfner, Mathias (DEU), CEO, Axel Springer SE
Dyvig, Christian (DNK), Chairman, Kompan
Ebeling, Thomas (DEU), CEO, ProSiebenSat.1
Elkann, John (ITA), Chairman and CEO, EXOR; Chairman, Fiat Chrysler Automobiles
Enders, Thomas (DEU), CEO, Airbus Group
Engel, Richard (USA), Chief Foreign Correspondent, NBC News
Fabius, Laurent (FRA), President, Constitutional Council
Federspiel, Ulrik (DNK), Group Executive, Haldor Topsøe A/S
Ferguson, Jr., Roger W. (USA), President and CEO, TIAA
Ferguson, Niall (USA), Professor of History, Harvard University
Flint, Douglas J. (GBR), Group Chairman, HSBC Holdings plc
Garicano, Luis (ESP), Professor of Economics, LSE; Senior Advisor to Ciudadanos
Georgieva, Kristalina (INT), Vice President, European Commission
Gernelle, Etienne (FRA), Editorial Director, Le Point
Gomes da Silva, Carlos (PRT), Vice Chairman and CEO, Galp Energia
Goodman, Helen (GBR), MP, Labour Party
Goulard, Sylvie (INT), Member of the European Parliament
Graham, Lindsey (USA), Senator
Grillo, Ulrich (DEU), Chairman, Grillo-Werke AG; President, Bundesverband der Deutschen Industrie
Gruber, Lilli (ITA), Editor-in-Chief and Anchor "Otto e mezzo", La7 TV
Hadfield, Chris (CAN), Colonel, Astronaut
Halberstadt, Victor (NLD), Professor of Economics, Leiden University
Harding, Dido (GBR), CEO, TalkTalk Telecom Group plc
Hassabis, Demis (GBR), Co-Founder and CEO, DeepMind
Hobson, Mellody (USA), President, Ariel Investment, LLC
Hoffman, Reid (USA), Co-Founder and Executive Chairman, LinkedIn
Höttges, Timotheus (DEU), CEO, Deutsche Telekom AG
Jacobs, Kenneth M. (USA), Chairman and CEO, Lazard
Jäkel, Julia (DEU), CEO, Gruner + Jahr
Johnson, James A. (USA), Chairman, Johnson Capital Partners
Jonsson, Conni (SWE), Founder and Chairman, EQT
Jordan, Jr., Vernon E. (USA), Senior Managing Director, Lazard Frères & Co. LLC
Kaeser, Joe (DEU), President and CEO, Siemens AG
Karp, Alex (USA), CEO, Palantir Technologies
Kengeter, Carsten (DEU), CEO, Deutsche Börse AG
Kerr, John (GBR), Deputy Chairman, Scottish Power
Kherbache, Yasmine (BEL), MP, Flemish Parliament
Kissinger, Henry A. (USA), Chairman, Kissinger Associates, Inc.
Kleinfeld, Klaus (USA), Chairman and CEO, Alcoa
Kravis, Henry R. (USA), Co-Chairman and Co-CEO, Kohlberg Kravis Roberts & Co.
Kravis, Marie-Josée (USA), Senior Fellow, Hudson Institute
Kudelski, André (CHE), Chairman and CEO, Kudelski Group
Lagarde, Christine (INT), Managing Director, International Monetary Fund
Levin, Richard (USA), CEO, Coursera
Leyen, Ursula von der (DEU), Minister of Defence
Leysen, Thomas (BEL), Chairman, KBC Group
Logothetis, George (GRC), Chairman and CEO, Libra Group
Maizière, Thomas de (DEU), Minister of the Interior, Federal Ministry of the Interior
Makan, Divesh (USA), CEO, ICONIQ Capital
Malcomson, Scott (USA), Author; President, Monere Ltd.
Markwalder, Christa (CHE), President of the National Council and the Federal Assembly
McArdle, Megan (USA), Columnist, Bloomberg View
Michel, Charles (BEL), Prime Minister
Micklethwait, John (USA), Editor-in-Chief, Bloomberg LP
Minton Beddoes, Zanny (GBR), Editor-in-Chief, The Economist
Mitsotakis, Kyriakos (GRC), President, New Democracy Party
Morneau, Bill (CAN), Minister of Finance
Mundie, Craig J. (USA), Principal, Mundie & Associates
Murray, Charles A. (USA), W.H. Brady Scholar, American Enterprise Institute
Netherlands, H.M. the King of the (NLD)
Noonan, Michael (IRL), Minister for Finance
Noonan, Peggy (USA), Author, Columnist, The Wall Street Journal
O'Leary, Michael (IRL), CEO, Ryanair Plc
Ollongren, Kajsa (NLD), Deputy Mayor of Amsterdam
Özel, Soli (TUR), Professor, Kadir Has University
Papalexopoulos, Dimitri (GRC), CEO, Titan Cement Co.
Petraeus, David H. (USA), Chairman, KKR Global Institute
Philippe, Edouard (FRA), Mayor of Le Havre
Pind, Søren (DNK), Minister of Justice
Ratti, Carlo (ITA), Director, MIT Senseable City Lab
Reisman, Heather M. (CAN), Chair and CEO, Indigo Books & Music Inc.
Rutte, Mark (NLD), Prime Minister
Sawers, John (GBR), Chairman and Partner, Macro Advisory Partners
Schäuble, Wolfgang (DEU), Minister of Finance
Schieder, Andreas (AUT), Chairman, Social Democratic Group
Schmidt, Eric E. (USA), Executive Chairman, Alphabet Inc.
Scholten, Rudolf (AUT), CEO, Oesterreichische Kontrollbank AG
Schwab, Klaus (INT), Executive Chairman, World Economic Forum
Sikorski, Radoslaw (POL), Senior Fellow, Harvard University; Former Minister of Foreign Affairs
Simsek, Mehmet (TUR), Deputy Prime Minister
Sinn, Hans-Werner (DEU), Professor for Economics and Public Finance, Ludwig Maximilian University of Munich
Skogen Lund, Kristin (NOR), Director General, The Confederation of Norwegian Enterprise
Standing, Guy (GBR), Co-President, BIEN; Research Professor, University of London
Svanberg, Carl-Henric (SWE), Chairman, BP plc and AB Volvo
Thiel, Peter A. (USA), President, Thiel Capital
Tillich, Stanislaw (DEU), Minister-President of Saxony
Vetterli, Martin (CHE), President, NSF
Wahlroos, Björn (FIN), Chairman, Sampo Group, Nordea Bank, UPM-Kymmene Corporation
Wallenberg, Jacob (SWE), Chairman, Investor AB
Weder di Mauro, Beatrice (CHE), Professor of Economics, University of Mainz
Wolf, Martin H. (GBR), Chief Economics Commentator, Financial Times
Michael Snyder is the founder and publisher of End Of The American Dream. Michael's controversial new book about Bible prophecy entitled "The Rapture Verdict" is available in paperback and for the Kindle on Amazon.com.