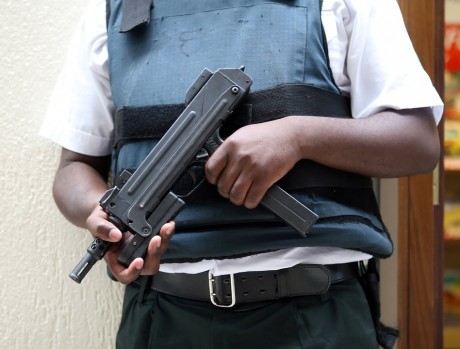 We are watching what happens when the economy of a developed nation totally implodes.  Just a few years ago, Venezuela was the wealthiest nation in all of South America, and they still have more proven oil reserves than anyone else on the entire planet including Saudi Arabia.  But now people down there are so hungry and so desperate that some of them are actually hunting dogs, cats and pigeons for food.  Just a few days ago, I gave a talk down at Morningside during which I warned that someday we would see armed guards on food trucks in America.  After that talk was done, I went back up to my room and I came across a New York Times article which had been republished by MSN that explained that this exact thing is already happening down in Venezuela…
With delivery trucks under constant attack, the nation's food is now transported under armed guard. Soldiers stand watch over bakeries. The police fire rubber bullets at desperate mobs storming grocery stores, pharmacies and butcher shops. A 4-year-old girl was shot to death as street gangs fought over food.

Venezuela is convulsing from hunger.

take our poll - story continues below

Completing this poll grants you access to DC Clothesline updates free of charge. You may opt out at anytime. You also agree to this site's Privacy Policy and Terms of Use.

Hundreds of people here in the city of Cumaná, home to one of the region's independence heroes, marched on a supermarket in recent days, screaming for food. They forced open a large metal gate and poured inside. They snatched water, flour, cornmeal, salt, sugar, potatoes, anything they could find, leaving behind only broken freezers and overturned shelves.
All over the country, people are standing in extremely long lines day after day hoping to get some food.  Sometimes the food trucks don't bring anything, and sometimes it is just scraps like fish heads and rotten fruit.  To get a better idea of what life is like in Venezuela right now, just check out this YouTube video…
As people down in
Venezuela
get hungrier and hungrier, extreme desperation is setting in.  And with extreme desperation comes 
crime and violence
…
A 4-year-old girl, Britani Lara, was reportedly shot to death Tuesday in the Caracas suburb of Guatire as she stood in line with her mother outside a  government-owned Mercal grocery store.

El Nacional newspaper reported that gangs on motorcycles have fought over the right to control and distribute food at the Guatire store and that the gunfire may have been a result of  that dispute. Eight others were reportedly injured in the incident.

Violence also was reported at a food protest staged in front of a store in the city of Cariaco in central Sucre state, where 21-year-old Luis Fuentes was killed by a gunshot. Eleven others were wounded, according to El Nacional newspaper.
Could you imagine living in a nation where all this is going on?
Most Americans could not even conceive of such a thing.  But of course the truth is that up until just recently most Venezuelans could not either.  In fact, just a couple years ago Venezuela was one of the most prosperous nations in all of South America…
Two years ago, Venezuela was a normal functioning nation, relatively speaking of course. It was by no means a free country, but the people still had a standard of living that was higher than most developing nations. Venezuelans could still afford the basic necessities of life, and a few luxuries too.

They could send their children to school and expect them to receive a reasonably good education, and they could go to the hospital and expect to be effectively treated with the same medical standards you'd find in a developed nation. They could go to the grocery store and buy whatever they needed, and basic government services like law enforcement and infrastructure maintenance worked fairly well. The system was far from perfect, but it worked for the most part.
There are all sorts of signs that the thin veneer of civilization that we all take for granted in the United States is starting to crumble as well.  If you follow End Of The American Dream on a regular basis, you know that I post articles about this theme all the time.  But today I just want to share one tidbit with you.  Reuters is reporting that the number of heroin users in this country has nearly tripled since 2003, and the number of heroin-related deaths is now about five times higher than it was in the year 2000…
A heroin "epidemic" is gripping the United States, where cheap supply has helped push the number of users to a 20-year high, increasing drug-related deaths, the United Nations said on Thursday.

According to the U.N.'s World Drug Report 2016, the number of heroin users in the United States reached around one million in 2014, almost three times as many as in 2003. Heroin-related deaths there have increased five-fold since 2000.

"There is really a huge epidemic (of) heroin in the U.S.," said Angela Me, the chief researcher for the report which was released on Thursday.
Just like Venezuela, our society is rotting too.  As I have warned before, the exact same things that are happening down there right now are coming here too.
It is just a matter of time.
On a side note, I would like to congratulate the British people for voting for independence from the European Union.  As I have been writing this article, the results have been coming in, and at this point it looks like victory is virtually assured for the "Leave" campaign.
I would have voted "Leave" myself if I lived in the United Kingdom, but let there be no doubt about what comes next.  Uncertainty and chaos are going to reign in European financial markets, and we have already seen the biggest one day drop in the history of the British pound.  There is going to be short-term economic and financial pain, but the people of the United Kingdom have done the right thing for their children and their grandchildren, and for that they are to be applauded.
Michael Snyder is the founder and publisher of End Of The American Dream. Michael's controversial new book about Bible prophecy entitled "The Rapture Verdict" is available in paperback and for the Kindle on Amazon.com.