A group of immigrants reportedly streamed themselves gang-raping a woman on Facebook Live.
From RT:
take our poll - story continues below

Completing this poll grants you access to DC Clothesline updates free of charge. You may opt out at anytime. You also agree to this site's Privacy Policy and Terms of Use.

Three men have been arrested in Uppsala, Sweden over suspicions of gang rape. Local media report police were alerted after being tipped off that the crime was being streamed on Facebook.

The crime allegedly took place early Sunday morning, with the police reportedly receiving a tip-off around 9:00am.

Aftonbladet daily spoke to some of the members of the closed Facebook group in which the "aggravated rape" was reportedly broadcast live. Witnesses said the girl being gang-raped was close to unconscious at the time.

One of them, Lovisa, 22, says she came upon the page by accident while chatting online. What she saw shocked her, she said.

"Two guys pushing down a girl on the bed… I first thought it was a poorly-orchestrated joke. But it was not."

According to Lovisa, there were 200 people watching the video at one point, before the police suddenly arrived on the scene and the video stopped, followed by sounds of commotion in the room. The police questioned the men before taking them to the station, she said.

"It's screwed, totally sick," another member of the closed group told Expressen. "How can you do such a thing to a girl? And how can you do it live…?"

It was not immediately clear how these members had received an invitation to the closed group.

The apartment is being examined by forensics specialists and the crime scene is closed off. Police spokesman Ivan Aslund told Aftonbladet the police will maintain "full confidentiality" at this time, declining to confirm anything further than the arrest over gang-rape suspicions.
Video shared on YouTube shows the last 7 minutes of the stream where police come in and place people under arrest.
The assailants appear to be Arab immigrants. The Swedish press is hiding their faces from the public.

[Note: The video is NOT graphic.]
Nordfront.se is reporting the main suspect is named Emil Khodagholi, who had been previously arrested in 2012 for assaulting a 16-year-old with an iron bar.
One image shared on social media shows a man holding up an image said to show the girl being raped. I've censored the image as it was graphic.
Since opening their borders in the 1960's to mass third world immigration, Sweden went from a quiet and peaceful country to the rape capital of the West.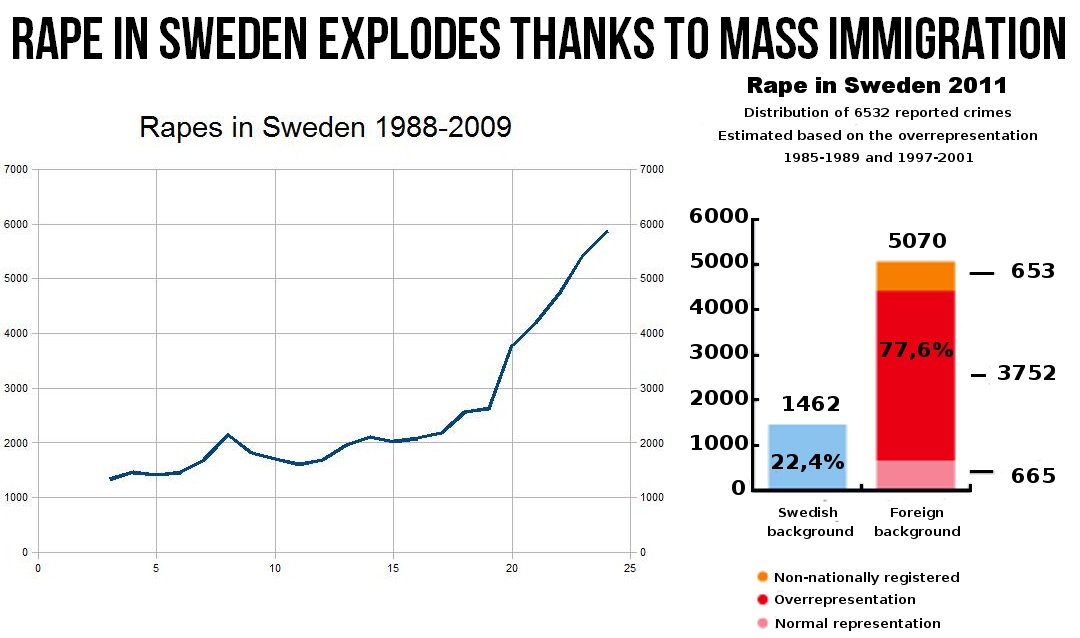 "Cultural enrichment" comes at a steep price.
Courtesy of Information Liberation