Philadelphia, PA — In 2016, during the presidential election, a theory surfaced online of an alleged child trafficking ring operated out of a Washington D.C. restaurant, Comet Ping Pong. The theory, which went viral, claimed that John Podesta's emails, which were leaked by WikiLeaks, contained coded messages referring to human trafficking. The restaurant theory was debunked and those who supported labeled as kooks by the mainstream media — especially after a man walked into the Comet Pizzeria and fired a weapon. However, although the DC pizza restaurant was never implicated, a very real and very dangerous location, where children were held captive and forced to perform sex with pedophiles, has just been exposed by a recent lawsuit.
In was has been named the "epicenter of human trafficking" by Philadelphia prosecutors, a motel in Northeast Philly was sued this month for horrifying instances of child trafficking.
In 2014, Philadelphia passed a law allowing victims of sex traffickers to sue hotels and motels where the abuse occurred. And, while it is typically difficult to prove a hotel's complicity if someone merely rents a room to engage in these horrific acts, this one motel was most assuredly aware.
take our poll - story continues below
Completing this poll grants you access to DC Clothesline updates free of charge. You may opt out at anytime. You also agree to this site's Privacy Policy and Terms of Use.
"This is a message to the entire motel and hotel industry that if you allow and enable trafficking of youngsters, young women, or any person on your facilities, you will be held responsible and sued for damages under the law," said Center City lawyer Thomas R. Kline.
As Philly.com reported, Kline and two lawyers from the Kline & Specter law firm, Nadeem A. Bezar and Emily B. Marks, announced the filing of the lawsuit on behalf of a 17-year-old girl, identified as "M.B.," who in 2013, at age 14, was "sold into sexual slavery at the Roosevelt Motel."
The lawsuit names Roosevelt Inn LLC, the motel's owner, UFVS Management Co., and the motel's manager, Yagna Patel.
"Once in the hotel, she was forced to stay there for days, sometimes longer than that. Not permitted to go far beyond the room that she was in, and was not allowed to leave the motel," explained Bezar.
M.B. was unfortunately not alone in her abuse. According to authorities, the hotel has been a hotbed for child sex trafficking, yet, somehow, it is still allowed to operate.
"Almost every trafficking investigation we have, we see the victim is at Roosevelt Inn," Assistant District Attorney Erin O'Brien said. "I know our vice officers are out there on a regular basis."
In some instances, hotel workers were even taking tips from the traffickers, according to the lawsuit. However, the manager, Patel, 72, claims he was not aware of any such ring.
According to Philly.com
Kline and Bezar said they found it hard to believe that Patel could not know what was going on in his 107-room, two-story motel. "Johns" were directed to the teenager's room after inquiring in the lobby and security cameras inside and out would have shown a steady queue of men going in and out of her room.

The teen, sometimes scantily dressed, wandered the halls while the room was being cleaned and befriended some of the motel staff. Some staff even accepted gratuities from the girl's pimp, Klein said.
"This was open, obvious and notorious," Klein said. "It is a flagrant and blatant example of a motel looking the other way — profiting from it and allowing it to occur."
The child, who is now 17-years-old is suing for $50,000.
As the Free Thought Project has previously pointed out, pedophilia among the elite is rampant. The problem has gotten so bad in England that officials issued an order last month to stop naming streets and landmarks after local heroes and politicians because they could later be exposed as pedophiles.
In February, the Free Thought Project reported on the fact that the police chief recently came forward and confirmed that the former Prime Minister of England, Sir Edward Heath, had raped dozens of children. The department also noted how those within the government helped cover up these crimes.
In December, we reported on the massive child sex ring that was blown apart in Norway. That investigation quickly led to arrests of "51 people, all men, (who) are so far involved in the case. 24 of them come from Hordaland and Sogn og Fjordane. 26 come from other areas of Norway, from Southeast to Finnmark in the north. Among the accused offenders, there is also one Swedish national. Two politicians, one Labor politician from Oslo and a former national Progress Party (FrP) politician from Eastern Norway are involved in the case." One is also a kindergarten teacher, and four of the 51 arrested were perpetrators in the video evidence collected.
Domestically, these higher level arrests are few and far between as anytime 'the elite' are mentioned alongside the term 'pedophile,' the Praetorian guard, aka the corporate media, shout down all those who dare pose any questions.
However, even though the media won't report on it, these disgusting child predators are so vile they are hard to ignore.
In January, admitted child rapist and former speaker of the house who is currently in jail, Dennis Hastert came across our radar after he demanded one of the children he raped pay back the hush money given to him by Hastert — because he broke his silence about the rape.
When the victim, known only as 'Individial A,' broke his silence, Hastert's child rapes were exposed — resulting in the subsequent prosecution.
"To the extent any contract existed between plaintiff [Individual A] and defendant [Hastert], plaintiff breached that contract," Hastert's lawyers wrote.
"Plaintiff's breach of conduct resulted in damages to defendant and plaintiff is accordingly required to return $1.7 million to defendant."
Individual A did not go public with this information — he merely spoke to the FBI after the transactions were uncovered by investigators. However, this sicko couldn't care less about airing this repugnant grievance in the public forum as it was almost entirely ignored by the media.
There was also another massive pedophilia scandal in the United States in what became known as the Franklin child sex ring coverup. Once the FBI took over the investigation from state authorities, however, it turned into a witch hunt to persecute the child victims – going so far as to charge them with perjury in a successful attempt to scare the other 70+ victims to recant their testimony regarding the child sex ring.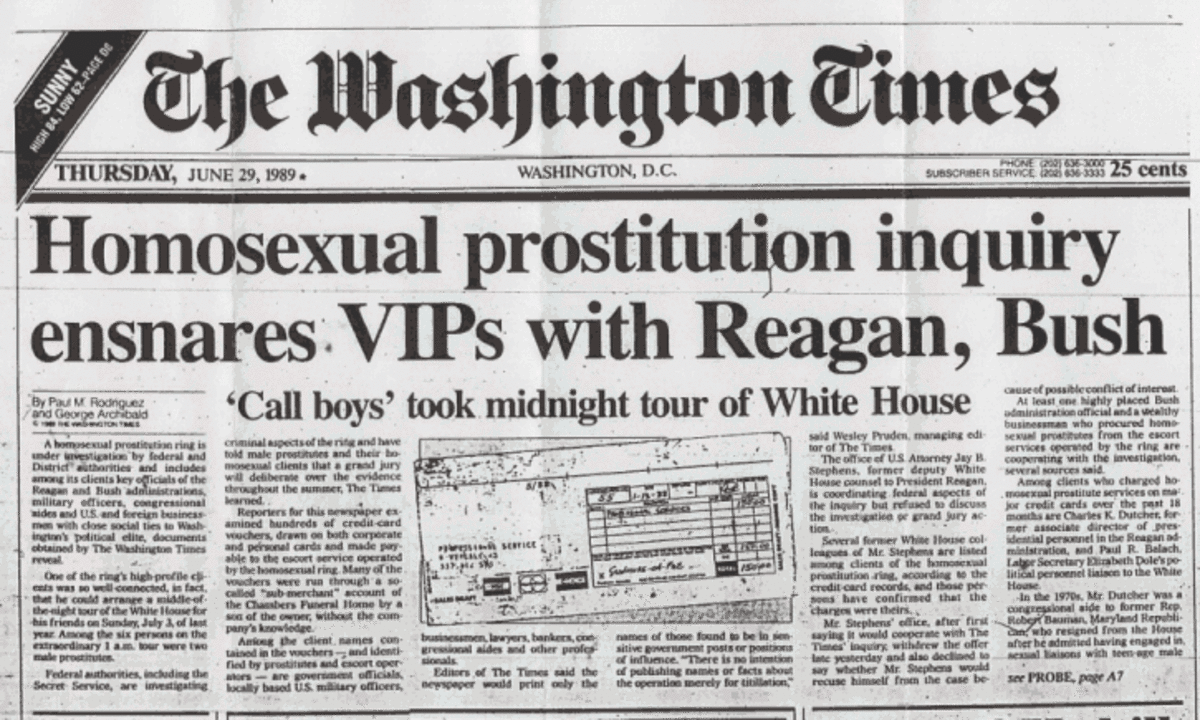 However, if you read the Washington Post or watch CNN, pedophilia is not a problem and those who talk about it are perpetuating 'fake news.'