The mob has voted to turn the dystopian French novel The Camp of the Saints into their reality.
Marine Le Pen lost to Emmanuel Macron 21.5 to 23.8, even with an ISIS terrorist gunning down cops with an AK-47 just days before the election.
take our poll - story continues below
Completing this poll grants you access to DC Clothesline updates free of charge. You may opt out at anytime. You also agree to this site's Privacy Policy and Terms of Use.
Macron literally ran on open borders, free trade and globalism. He's also a total weirdo that married a woman 24 years his senior who already had three kids and preyed on him since he was 15.
PARIS (AP) — Centrist Emmanuel Macron and far-right populist Marine Le Pen advanced Sunday to a runoff in France's presidential election, remaking the country's political landscape and setting up a showdown over its participation in the European Union.

French politicians on the left and right immediately urged voters to block Le Pen's path to power in the May 7 runoff, saying her virulently nationalist anti-EU and anti-immigration politics would spell disaster for France.

"Extremism can only bring unhappiness and division to France," defeated conservative candidate Francois Fillon said. "As such, there is no other choice than to vote against the extreme right."
Polls have shown Le Pen is 20 points behind Macron in the run-off.
The selection of Le Pen and Macron presents voters with the starkest possible choice between two diametrically opposed visions of the EU's future and France's place in it. It sets up a battle between Macron's optimistic vision of a tolerant France and a united Europe with open borders against Le Pen's darker, inward-looking "French-first" platform that calls for closed borders, tougher security, less immigration and dropping the shared euro currency to return to the French franc.

With Le Pen wanting France to leave the EU and Macron wanting even closer cooperation among the bloc's 28 nations, Sunday's outcome means the May 7 runoff will have undertones of a referendum on France's EU membership.

The absence in the runoff of candidates from either the mainstream left Socialists or the right-wing Republicans party – the two main political groups that have governed post-war France – also marked a seismic shift in French politics. Macron, a 39-year-old investment banker, made the runoff on the back of a grassroots campaign without the support of a major political party.

With 90 percent of votes counted, the Interior Ministry said Macron had nearly 24 percent, giving him a slight cushion over Le Pen's 22 percent. Fillon, with just under 20 percent, was slightly ahead of the far-left's Jean-Luc Melenchon, who had 19 percent.
While Le Pen was a pretty bad candidate because she seemed to spend all her time apologizing and distancing herself from her father, even still the lines were clear enough to make an informed decision.
Rather than vote for more of this:
The mob voted for more of this: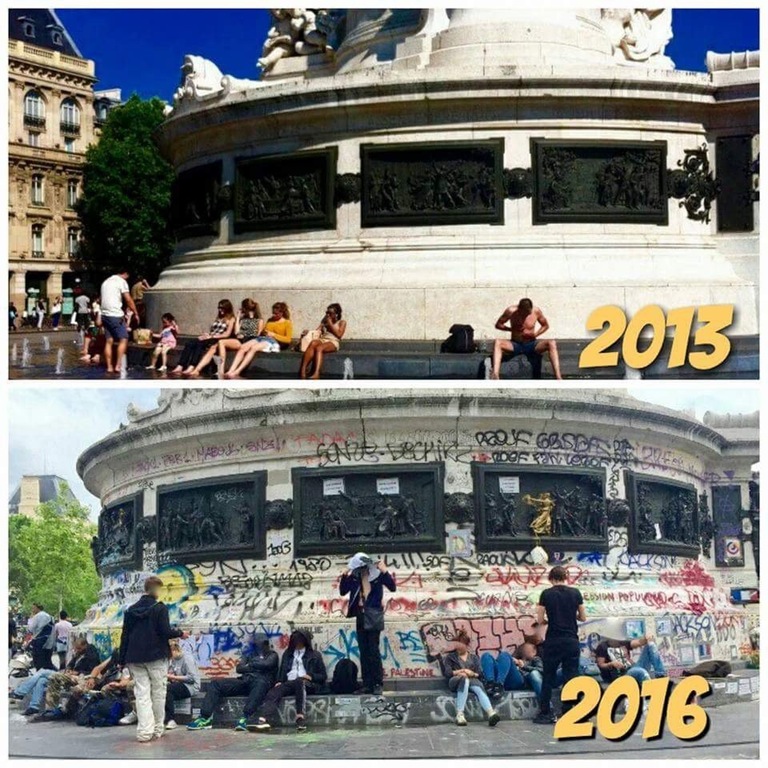 Here's a map showing who voted for who:
You can see French people living in the areas with the most Muslim immigrants tended to vote Le Pen, whereas those with the least tended to vote Macron. In other words, those who actually have to live in these immigrant ghettos and witness their neighborhoods being turned into Third World cesspools voted against open borders, whereas those living in wealthier communities far from the riffraff voted in favor of them.
Courtesy of Information Liberation