Drexel University professor George Ciccariello-Maher, who said last year that all he wanted for Christmas was "white genocide," resigned this Christmas without getting the genocide he anxiously craves. 
From CNN:
A Drexel University professor who received death threats after posting several controversial tweets said Thursday he is resigning because the year-long harassment has made his situation "unsustainable."

take our poll - story continues below

Completing this poll grants you access to DC Clothesline updates free of charge. You may opt out at anytime. You also agree to this site's Privacy Policy and Terms of Use.

George Ciccariello-Maher, a professor of politics and global studies, had been teaching his class remotely via video conference after being put on administrative leave, a move that Drexel said was for his own safety.

The professor said his resignation is effective December 31.

"This is not a decision I take lightly; however, after nearly a year of harassment by right-wing, white supremacist media outlets and Internet mobs, after death threats and threats of violence directed against me and my family, my situation has become unsustainable," Ciccariello-Maher wrote on his Facebook account. "Staying at Drexel in the eye of this storm has become detrimental to my own writing, speaking, and organizing."

The professor said the threats began last December after he posted on Twitter: "All I Want for Christmas is White Genocide." He said the tweet was a joke, a "satirical jab at a certain paranoid racist fantasy and that white genocide does not exist."
Ciccariello-Maher clarified his "All I Want for Christmas is White Genocide" tweet one day later saying the massacre of whites during the Haitian revolution "was a good thing indeed."
Why do they always leave that out?
Does anyone think CNN would be crying "academic freedom" if a white professor said "All I Want For Christmas Is Black Genocide"?
What if he clarified his statement saying he thought the genocide of blacks "was a good thing indeed"?
Fact is we have no academic freedom in America because the left destroyed it. Liberal professors outnumber conservatives 28 to 1 in New England.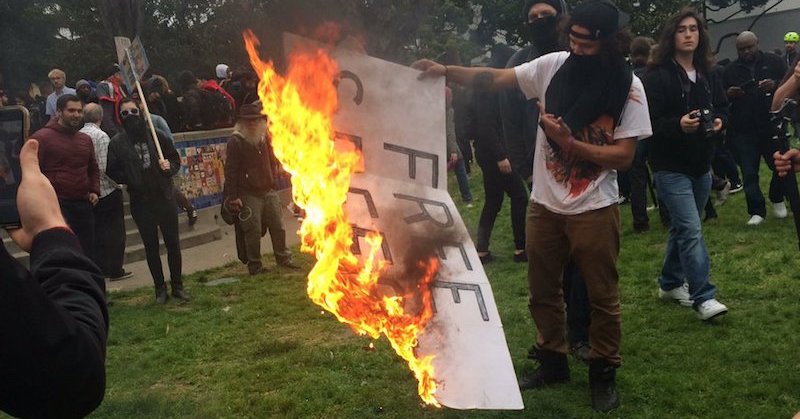 Right-wingers can't speak at Berkeley without triggering communist riots. Middlebury professor Allison Stanger was violently assaulted for attempting to protect Charles Murray from a hostile liberal mob. A state of emergency was declared in Florida over a Richard Spencer speech in October.
These communists are just angry that for the first time in decades they're getting the same treatment they've been dishing out against right-wingers for half a century.
Courtesy of Information Liberation