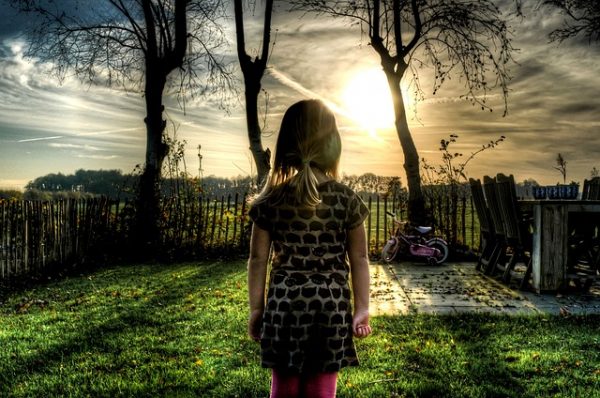 Rats don't like it when you start shining a light on them.  President Trump has designated January to be "National Slavery and Human Trafficking Prevention Month", but most Americans don't realize that Washington D.C. is actually one of the worst human trafficking hubs in the entire nation.  Silent horrors take place behind closed doors day after day, and nobody is really supposed to talk about it.  Fortunately, we now have a president that is willing to take bold action, and that is making many members of the D.C. establishment very, very nervous.
Washington D.C. has always attracted individuals of questionable moral character, and sexual exploitation in one of the realities of life in our capital city.  At this point things are so bad that even the Washington Post is speaking openly about it.  For example, the following is from a Washington Post article entitled "Washington D.C.'s serious sex-trafficking problem"…
Right here in the nation's capital, our most vulnerable residents — children — are subjected to sex slavery. Their stories don't make the evening news or even warrant blurbs in your morning paper. But human trafficking is, and has been, a shadowy and seamy part of D.C. life.
take our poll - story continues below
Completing this poll grants you access to DC Clothesline updates free of charge. You may opt out at anytime. You also agree to this site's Privacy Policy and Terms of Use.
The D.C. area has a much higher percentage of missing children than the nation as a whole, and I will discuss that more below.  First, I want to share with you a portion of the statement that the White House just issued…
During National Slavery and Human Trafficking Prevention Month, we recommit ourselves to eradicating the evil of enslavement. Human trafficking is a modern form of the oldest and most barbaric type of exploitation. It has no place in our world. This month we do not simply reflect on this appalling reality. We also pledge to do all in our power to end the horrific practice of human trafficking that plagues innocent victims around the world.
This is a very strongly-worded statement, and many are hoping that we finally have a president that is committed to ending this horrific practice in the United States once and for all.
And what Trump has accomplished so far is giving many of us great hope.  Here is more from the official White House website…
My Administration continues to work to drive out the darkness human traffickers cast upon our world. In February, I signed an Executive Order to dismantle transnational criminal organizations, including those that perpetuate the crime of human trafficking. My Interagency Task Force to Monitor and Combat Trafficking in Persons has enhanced collaboration with other nations, businesses, civil society organizations, and survivors of human trafficking. The Department of Health and Human Services has established a new national training and technical assistance center to strengthen our healthcare industry's anti-trafficking response. The Department of State has contributed $25 million to the Global Fund to End Modern Slavery, because of the critical need for cross-nation collaborative action to counter human trafficking. The Department of Labor has released an innovative, business-focused mobile app that supports private-sector efforts to eradicate forced labor from global supply chains. And this month, I will sign into law S. 1536, the Combating Human Trafficking in Commercial Vehicles Act and S. 1532, the No Human Trafficking on Our Roads Act. These bills will keep those who commit trafficking offenses from operating commercial vehicles, improve anti-human trafficking coordination within Federal agencies and across State and local governments, and improve efforts to recognize, prevent, and report human trafficking.
You may live in an area of the country that does not have a problem with children being abducted, but in the D.C. area it has reached epidemic proportions.
In fact, NBC's Richmond affiliate has reported that 20 percent of all missing children in the United States are from Virginia…
"When 20 percent of all missing kids in the U.S. are from Virginia, we have a problem," said Smith.

Robert Smith works to educate families through Child Shield. He spends time in schools and speaks at community events teaching children from a young age about safety, encouraging parents and teens to have open and honest relationships, especially in an age of technology. Smith says with so many kids on social media, it's important for parents to be up to speed and informed especially when it comes to their teenagers.

"We have 180 something kids missing for this year. Something is happening. I'm assuming 180 something kids didn't just run away," said Smith.
And independent researcher Den Skjult came up with nearly the exact same figure after doing his own research…
In December of last year, Virginia resident and researcher, Den Skjult, did some number crunching using statistics provided on the National Center for Missing and Exploited Children (NCMEC). What he uncovered was that the rate of missing children per 100,000 people was disproportionately high in Virginia in 2016. In fact, Virginia topped the list for missing children per 100, 000 people doubling the rates in both New York and California. According to Den Skjult's calculations, nearly 20% of all reported missing children in 2016 originated in Virginia.
In particular, kids living along the I-95 corridor are getting abducted at a very alarming rate.  Many believe that those children are ultimately taken to Washington D.C. or other major cities and are subjected to some of the most horrifying ordeals that you can possibly imagine.
We must put an end to this great evil, and we should be so thankful that we have a man like Donald Trump in the White House.  Just like all of us, he is absolutely sickened by human trafficking, and he is making the fight against this nightmarish practice one of his highest priorities.
Anyone that would treat children in such a manner deserves the greatest punishment possible, and let us hope that Trump and his team will be greatly successful in this effort to clean up our streets.
Michael Snyder is a pro-Trump candidate for Congress in Idaho's First Congressional District, and you can learn how you can get involved in the campaign on his official website. His new book entitled "Living A Life That Really Matters" is available in paperback and for the Kindle on Amazon.com.
Courtesy of End of the American Dream