Washington, D.C. – A Department of Homeland Security multi-agency counterterrorism center, the Washington State Fusion Center, released some documents this week that exposed research into a secretive class of devices called electromagnetic weapons, which have the potential to be used for "remote mind control."
A reporter for Muckrock researching Antifa and white supremacist groups received a surprise among a batch of information from the Washington State Fusion Center as part of a FOIA request, as one file within the materials he received was curiously labeled "EM effects on the human body.zip"—a reference to electromagnetic forces on the human body.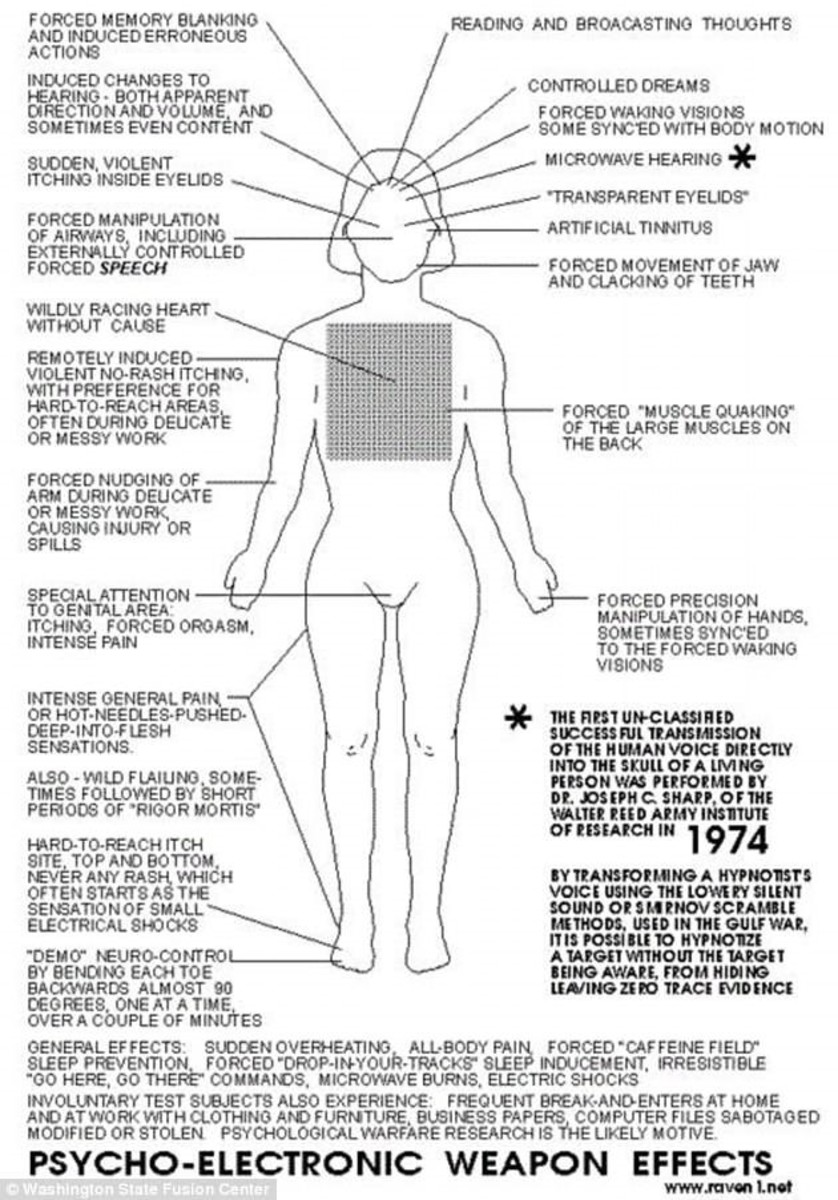 take our poll - story continues below
Completing this poll grants you access to DC Clothesline updates free of charge. You may opt out at anytime. You also agree to this site's Privacy Policy and Terms of Use.
Upon closer inspection, the journalist realized the documents contained in the file from the DHS Fusion Center discussed "remote mind control" and "forced memory blanking," as well as other types of "psycho-electronic" weapon effects. The documents also discussed "microwave hearing," and "remote brain mapping," which would let third parties monitor your thoughts.
It is important to note that the existence of these records—which were not created by the fusion center and are not government documents—is not evidence that the U.S. government possesses these devices, but clearly indicates that at a minimum, these types of weapons are being studied. It should also be noted that while these particular records may not be evidence of the existence of psycho-electronic weapons, there is a plethora of collateral documentation that supports their existence and use.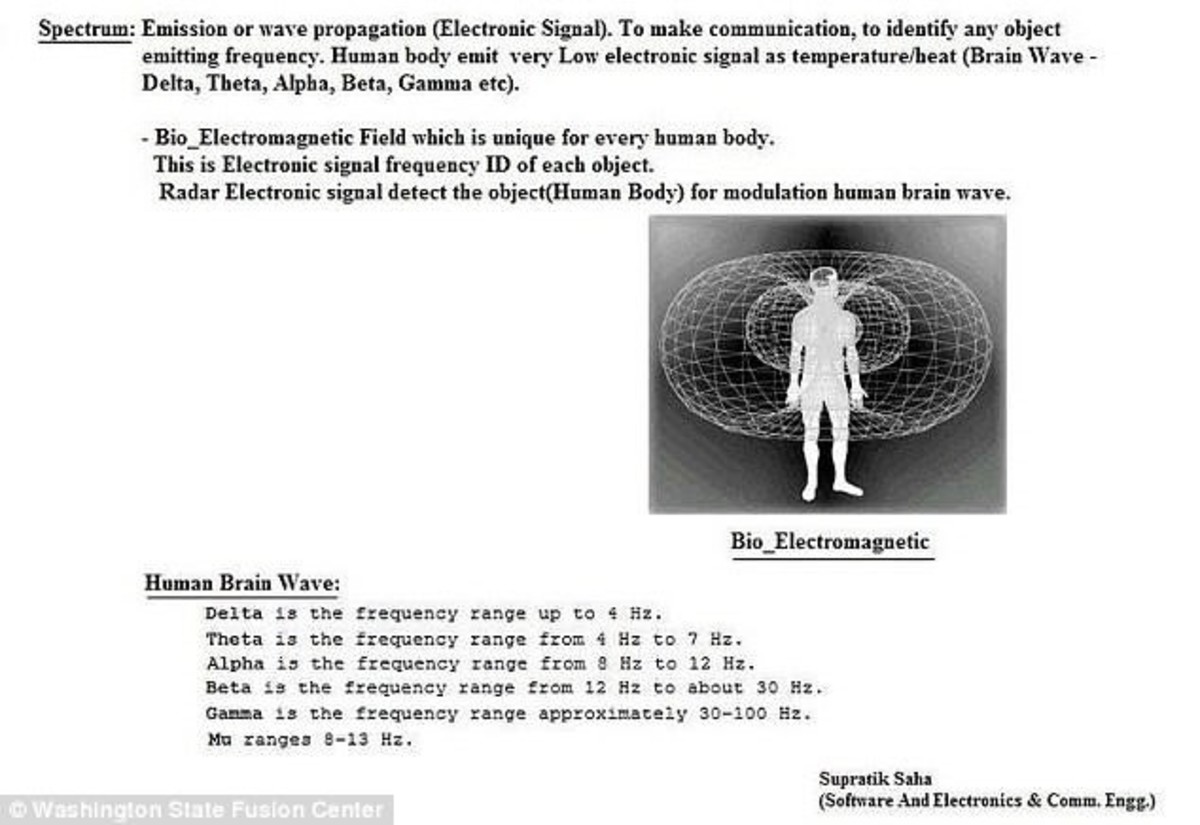 MuckRock reports that aside from being in the possession of the fusion center, the documents are clearly not government material, with one slide seemingly coming from a person named "Supratik Saha," who is identified as a software engineer. The slide referencing brain mapping has no sourcing, while a diagram of a body being assaulted by psychotronic weapons is sourced from "raven1.net," which is no longer operational.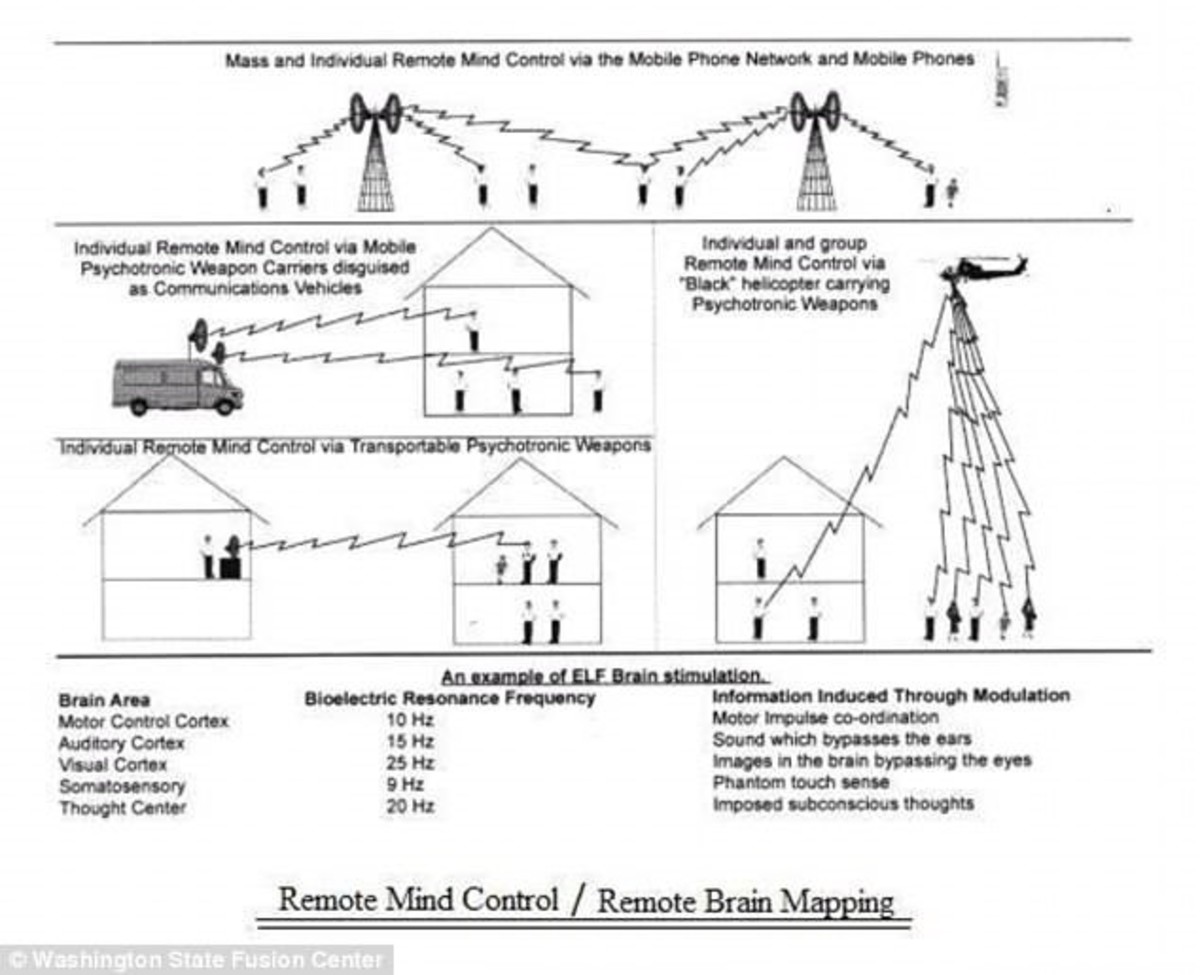 While the documents themselves may not be direct evidence of the existence of "psycho-electronic" weapons, there is plenty of supporting documentation regarding the existence and development of such weapons globally.
As a report by the Daily Mail notes:
Research into electromagnetic weapons has been secretly carried out in the US and Russia since the Fifties. But now it appears Mr Putin has stolen a march on the Americans. Precise details of the Russian gun have not been revealed. However, previous research has shown that low-frequency waves or beams can affect brain cells, alter psychological states and make it possible to transmit suggestions and commands directly into someone's thought processes.

High doses of microwaves can damage the functioning of internal organs, control behaviour or even drive victims to suicide. Anatoly Tsyganok, head of the Military Forecasting Centre in Moscow, said:

"This is a highly serious weapon. When it was used for dispersing a crowd and it was focused on a man, his body temperature went up immediately as if he was thrown into a hot frying pan. Still, we know very little about this weapon and even special forces guys can hardly cope with it."
The development of this new class of weapons was announced in 2012 by then-Russian defense minister Anatoly Serdyukov, who said:
"The development of weaponry based on new physics principles – direct-energy weapons, geophysical weapons, wave-energy weapons, genetic weapons, psychotronic weapons, and so on – is part of the state arms procurement program for 2011-2020."
Russian President Vladimir Putin added:
"Such high-tech weapons systems will be comparable in effect to nuclear weapons but will be more acceptable in terms of political and military ideology."
The development of electromagnetic weapons has been carried out by Russia and the U.S. secretly since the 1950s. The Daily Mail reported that "previous research has shown that low-frequency waves or beams can affect brain cells, alter psychological states and make it possible to transmit suggestions and commands directly into someone's thought processes. High doses of microwaves can damage the functioning of internal organs, control behavior or even drive victims to suicide."
The Center for Globalization reports that while the mainstream media has largely kept this technology under wraps, in 1975, neuropsychologist Don R. Justesen, the director of Laboratories of Experimental Neuropsychology at Veterans Administration Hospital in Kansas City, accidentally leaked secret information when he published an article in "American Psychologist" about the influence of microwaves on the behavior of living creatures.
He quoted the results of a secret experiment conducted by the U.S. Navy called "Pandora," as described to by his colleague, Joseph C. Sharp.
"By radiating themselves with these 'voice modulated' microwaves, Sharp and Grove were readily able to hear, identify, and distinguish among the 9 words. The sounds heard were not unlike those emitted by persons with artificial larynxes," Justesen wrote.
The technology was seemingly developed to full operationalization as evidenced by a document appearing on the Environmental Protection Agency's website, where its Office of Research and Development presented the Department of Defense's project: "Communicating Via the Microwave Auditory Effect."
The description of which read:
"An innovative and revolutionary technology is described that offers a low-probability-of-intercept radiofrequency (RF) communications. The feasibility of the concept has been established using both a low-intensity laboratory system and a high power RF transmitter. Numerous military applications exist in areas of search and rescue, security and special operations."
In fact, there are thousands of people called "Targeted Individuals" across the world that believe they are being experimented upon with these secret technologies. TI's as they are known are often disregarded as crackpots or paranoid by the mainstream masses, but the reality exists that there may be more to their claims than previously considered given the documented existence of these psycho-electronic weapons.
In January 2007, the Washington Post published an article about TI's and the reality of research into this new class of weapons, which goes largely unrecognized—perhaps intentionally—by the mass media:
But there are hints of ongoing research: An academic paper written for the Air Force in the mid-1990s mentions the idea of a weapon that would use sound waves to send words into a person's head. "The signal can be a 'message from God' that can warn the enemy of impending doom, or encourage the enemy to surrender," the author concluded.

In 2002, the Air Force Research Laboratory patented precisely such a technology: using microwaves to send words into someone's head. That work is frequently cited on mind-control Web sites. Rich Garcia, a spokesman for the research laboratory's directed energy directorate, declined to discuss that patent or current or related research in the field, citing the lab's policy not to comment on its microwave work.

In response to a Freedom of Information Act request filed for this article, the Air Force released unclassified documents surrounding that 2002 patent—records that note that the patent was based on human experimentation in October 1994 at the Air Force lab, where scientists were able to transmit phrases into the heads of human subjects, albeit with marginal intelligibility. Research appeared to continue at least through 2002. Where this work has gone since is unclear—the research laboratory, citing classification, refused to discuss it or release other materials.
It is clear that world governments are actively developing new classes of weaponry that the public have been led to believe are the stuff of fantasy, thus making it easy to pass off anyone discussing "psycho-electronic" as a wild conspiracy theorist, and not as someone who is critically assessing the capabilities being developed by our security apparatus.
Given the proclivity of governments across the world to experiment on their own people, it would be wise to publicize and fully investigate this secretive technology.
Courtesy of The Free Thought Project
Jay Syrmopoulos is a geopolitical analyst, freethinker, and ardent opponent of authoritarianism. He is currently a graduate student at the University of Denver pursuing a masters in Global Affairs and holds a BA in International Relations. Jay's writing has been featured on both mainstream and independent media – and has been viewed tens of millions of times. You can follow him on Twitter @SirMetropolis and on Facebook at SirMetropolis.