A 23-month-old baby boy named Alfie Evans has been fighting for his life in a British hospital for months. Aflie has a degenerative neurological condition that doctors say is incurable, and thus the medical staff at the hospital has basically condemned the child to die.
Alfie's parents want to do everything in their power to keep him alive. However, unfortunately, the UK government has the final say as to how the child will be treated, and a series of court rulings have ordered the hospital to take him off of life support.
Alfie's father, Thomas Evans has been attempting to appeal these rulings so the family can fly to the Vatican hospital in Rome, where they have been offered free medical care, with experimental treatments that are not offered in the UK.
take our poll - story continues below
Completing this poll grants you access to DC Clothesline updates free of charge. You may opt out at anytime. You also agree to this site's Privacy Policy and Terms of Use.
Despite the fact that this will come at no cost to the UK government or the hospital, they are legally forcing the family to stay in the UK, where they will be denied medical care because the government decided that it was not worth the effort to keep the boy alive. Even worse, the hospital has not been feeding the child while he is under their care, which is now court mandated.
The parents sought to try experimental treatments outside of the country, but the doctors were able to prevent them from leaving the UK. Under the healthcare system in the UK, patients are often at the whims of doctors and are not allowed to make their own medical decisions in many cases, especially when children are involved, since the state assumes the legal authority to speak for the child.
We have seen similar situations play out in the United States, as many parents take the risk of having the government take their children if they decide to try unconventional but promising new treatments like cannabis oil.

The Evans family has even been forced to go to the courts to request to take their son home, which now seems like their best possible option.
The case has sparked outrage across the world, but instead of backing down, the hospital and the government have gone on the offensive against anyone offering support for the Evans family.
Alder Hey Hospital Chairman David Henshaw and Chief Executive Louise Shepherd said in a statement that they have been victims of a "barrage of highly abusive and threatening language and behavior."
"We have endured attacks upon our motivation, our professionalism, and our ethics. It has been a very difficult time. Having to carry on our usual day-to-day work in a hospital that has required a significant police presence just to keep our patients, staff, and visitors safe is completely unacceptable," they said in the statement.
Then Merseyside Police Department issued a statement on their Facebook page, saying that they will be monitoring social media for posts about the situation, and will be considering legal action against people for speaking out:
"We've issued the following statement following reports of social media posts being made in relation to Alder Hey Hospital and the ongoing situation with Alfie Evans:

Chief Inspector Chris Gibson said: 'Merseyside Police has been made aware of a number of social media posts which have been made with reference to Alder Hey Hospital and the ongoing situation involving Alfie Evans.

I would like to make people aware that these posts are being monitored and remind social media users that any offences including malicious communications and threatening behaviour will be investigated and where necessary will be acted upon.'"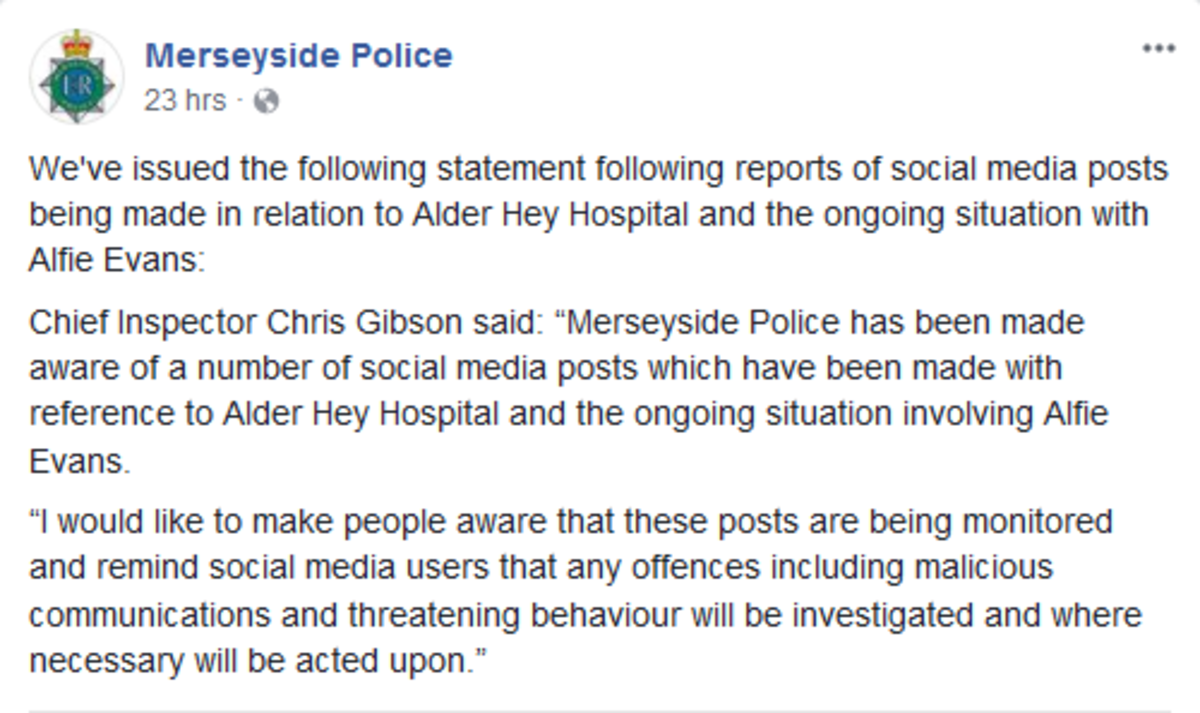 This is not an empty threat either—police in the UK actually have the legal authority to arrest people for things that they say online. This is one of the many examples of how seemingly well-intentioned laws against "hostile" speech can actually be used to stifle dissent so that public discourse can be pushed in a particular direction. In fact, thousands of people over the past few years have been arrested for Facebook posts in the UK.
As The Free Thought Project reported, just last month a YouTube prankster named Mark Meechan was arrested and found guilty of a hate crime for training his dog to do a Nazi salute—as a joke to freak out his girlfriend. Meechan says that he is not racist or antisemitic, but that he likes to explore the "darker side of humor." He was charged under the Communications Act of 2003, which states that people who make online posts that are deemed offensive or malicious can face fines and prison time.
In the case of Alfie Evans, there are so many people speaking out that it will likely spark further anger if someone is actually arrested for sharing their opinion. Even the president of Poland and the Pope have offered their support of the Evans family on social media:
Alfie Evans must be saved! His brave little body has proved again that the miracle of life can be stronger than death. Perhaps all that's needed is some good will on the part of decision makers. Alfie, we pray for you and your recovery!

— Andrzej Duda (@AndrzejDuda) April 25, 2018
Moved by the prayers and immense solidarity shown little Alfie Evans, I renew my appeal that the suffering of his parents may be heard and that their desire to seek new forms of treatment may be granted.

— Pope Francis (@Pontifex) April 23, 2018
Courtesy of The Free Thought Project
John Vibes is an author and researcher who organizes a number of large events including the Free Your Mind Conference. He also has a publishing company where he offers a censorship free platform for both fiction and non-fiction writers. You can contact him and stay connected to his work at his Facebook page.John just won a 3-year-long battle with cancer, and will be working to help others through his experience, if you wish to contribute to his treatments consider subscribing to his podcast to support .