Even the Nazis didn't take such unbridled joy from genocidal hate and bigotry as do today's Muslim Jew-haters. It literally defines them. Zayed is like her fellow medical professional Lara Kollab, the vicious Muslim racist who had a monstrous history of Jew-hatred and racist statements and even BRAGGED about her hatred but wasn't fired until Canary Mission called attention to her statements.
Is Zayed currently employed in the Cincinnati area?
Did her employers not vet her?
take our poll - story continues below
Completing this poll grants you access to DC Clothesline updates free of charge. You may opt out at anytime. You also agree to this site's Privacy Policy and Terms of Use.
Or did they secretly agree with her?
"Dentist Nessreen Zayed Supports Genocide of Jews & Expresses Desire to Torture 'Zionist' Patients," IsraellyCool, April 2, 2019 (thanks to Mark):
One of my favorite movies of all time is Marathon Man, starring the imposing acting duo of Laurence Olivier and Dustin Hoffman. Perhaps the most iconic scene is when Olivier's Nazi war criminal Dr Christian Zell, a dentist, tortures Hoffman's "Babe" Levy, a Jewish graduate student.
What is even more terrifying is the idea that real-life Cincinnati dentist Nessreen Zayed is out there practicing – because she has expressed a desire to go all Zell on "Zionists."
She is referring to this video:
Yup, she's just like Lara Kollab, only without the medical school part.
Sorry, I could not resist.

But what is also no laughing matter is Zayed's Jew hatred.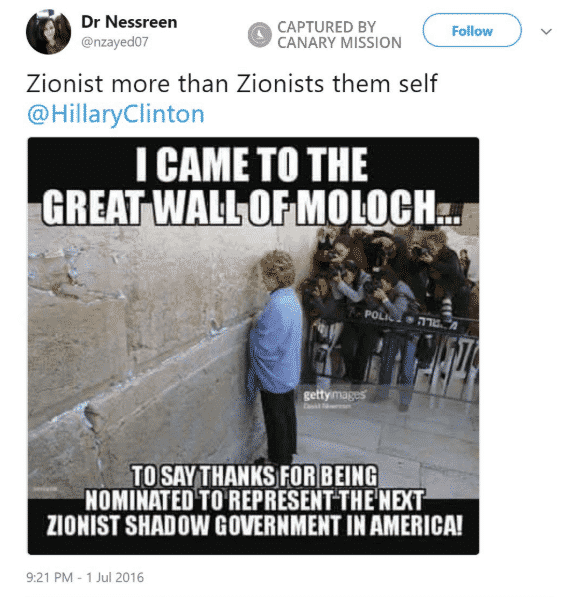 Which manifests itself beyond hate speech, into support of terrorism against Jews.
Make no mistake about it. This dentist is advocating genocide…
Courtesy of Freedom Outpost
Article posted with permission from Pamela Geller
Pamela Geller is the founder, editor and publisher of PamelaGeller.com and President of the American Freedom Defense Initiative (AFDI) and Stop Islamization of America (SIOA). She is the author of The Post-American Presidency: The Obama Administration's War on America, (foreword by Ambassador John Bolton), (Simon & Schuster). Stop the Islamization of America: A Practical Guide to the Resistance. She is also a regular columnist for World Net Daily, the American Thinker, and other publications. Follow her on Facebook & Twitter