Orlando, FL — In the land of the free, throwing a temper tantrum is now a crime, even for 6-year-old little girls. A Florida grandmother learned that the hard way this week after her granddaughter was arrested for doing that very thing at school.
Meralyn Kirkland explained to WKMG that her granddaughter had been arrested at Lucious and Emma Nixon Elementary charter school by Orlando Police Officers.
"What do you mean she was arrested, he said 'there was an incident and she kicked somebody and she is being charged and she is on her way,'" Kirkland explained.
take our poll - story continues below
Completing this poll grants you access to DC Clothesline updates free of charge. You may opt out at anytime. You also agree to this site's Privacy Policy and Terms of Use.
This tiny little girl was handcuffed and hauled off to the juvenile detention center where she was booked into the jail. She was fingerprinted and even had her mugshot taken. Exactly how anyone involved this process thought this was acceptable is a mystery.
When police told Kirkland that her granddaughter had been arrested, this grandmother tried to explain that little Kaia has a medical condition, but police did not care.
"She has a medical condition that we are working on getting resolved and he says, 'what medical condition, she has a sleep disorder, sleep apnea,' and he says, 'well I have sleep apnea and I don't behave like that."
After being booked into the system, Kaia was charged with battery and Kirkland was told she could come pick up her daughter.
"They told us we had to wait a few minutes because Kaia was being fingerprinted, and when she said finger printed it hit me like a ton of bricks," Kirkland said. "No six year old child should be able to tell somebody that they had handcuffs on them and they were riding in the back of a police car and taken to a juvenile center to be fingerprinted, mug shot"
After news of the incident broke, the officer involved, officer Dennis Turner was suspended. It would then be revealed that he arrested an 8-year-old child the same week at school and no one said anything to challenge him.
According to the Orlando Sentinel, officers arresting children under 12 must receive approval from a Watch Commander, which is department policy. Turner failed to do this both times.
What's more, officer Turner's past is less than stellar, yet he was still hired on to work around small children. We are now seeing the inevitable result of such disturbingly lax hiring practices.
In 1998, Turner was charged with child abuse. He was suspended pending the outcome of the investigation, the Sentinel reported. In that case, Turner was arrested after his 7-year-old son showed up at school with visible injuries from the abuse. Exactly what happened after the arrest remains unclear.
In 2016, he was reprimanded for using excessive force after stunning a man five times with a Taser during an arrest, the newspaper reported.
The NY Times spoke with Dr. Victor M. Fornari, the vice chairman for child and adolescent psychiatry at Northwell Health's Zucker Hillside Hospital in Glen Oaks, N.Y., who said justifying the arrest of children as young as 6 and 8 is ridiculous.
The mental health system — not the criminal justice system — is the one commonly relied on in a situation like this, he said, according to the Times.
"Arresting them and putting them under handcuffs is traumatizing," he said. "There's no clinical benefit to the child or society."
We agree.
Sadly, while this officer's suspension is a silver lining, arresting small children at school is no isolated incident. In fact, just last week, TFTP reported on a similarly disturbing incident out of San Antonio in which a 7-year-old boy with autism was handcuffed and dragged from school. He had also thrown a temper tantrum.
"No kid should have to be put in handcuffs," Maria Arias, the victim's mother said said. "Let alone, a kid that has mental illnesses or disabilities."
But unlike the school in Florida who suspended the officer, the school in San Antonio defended it.
In response to the video, the school district released the following statement:
"There are times when children are in crisis, hurting themselves, and need emergency detention – and handcuffing is part of the process, to keep the child safe," said Leslie Price, a spokesperson from SAISD.
The list goes on as young children with disabilities often find themselves on the receiving end of police state violence while attending public school.
Colton Granito, an 8-year-old boy with autism, threw a tantrum during class. Instead of following the boy's IEP plan, police were called. Colton was handcuffed, transported to jail, and forced to sit in a cell for hours wearing a straight jacket. He was subsequently charged with assault and sentenced to probation.
The photo below is of a 10-year-old child handcuffed, laid out on the back of a police cruiser. The boy's name is Ryan, and he has autism. He misbehaved at school and was also arrested and treated like a criminal as police took time to pose for a photo documenting their abuse.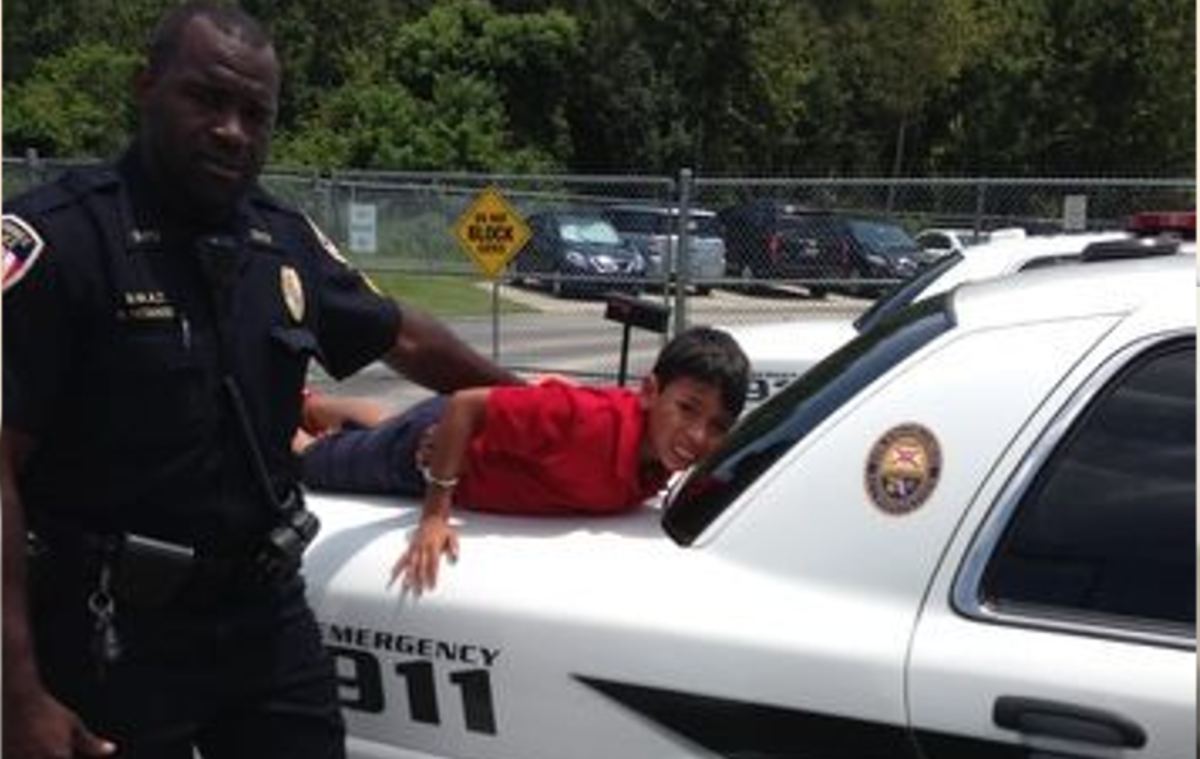 In September of 2014, we reported on body cam footage showing a 9-year-old special needs boy handcuffed as his father pleaded with the officer to release him.
That same month, a highly disturbing video of cops manhandling a 13-year-old autistic child as he screamed for help emerged on Facebook.
And these cases contain only autistic children. If you truly want a glimpse into the horrid effects of the police state on all school children, take a scroll through our archives, at this link.
Courtesy of The Free Thought Project
More School Cops…