David Robinson, who is a drag queen that goes by the name of Miss Kitty Litter ATX, was allowed to read stories to children at the Blackshear Fine Arts Academy on October 7, 2019 in Texas.  However, even more disturbing than allowing this degenerate to read to children and in the process, groom them towards his own deviant behavior, the school district knew that he had a record as a sex offender.
As usual, Mass Resistance was calling Robinson out long before he was allowed to read to the children.
According to Church Militant:
take our poll - story continues below
Completing this poll grants you access to DC Clothesline updates free of charge. You may opt out at anytime. You also agree to this site's Privacy Policy and Terms of Use.
"'Want to see a sweet, quiet town ripped asunder? 'Want to see a place anyone would want to live in and open a small business doxed and divided?"
"Then watch the American Library Association, and its Antifa army, wage war on towns — and cities — across the country as it hoists its sneaky child-grooming campaign of drag queen story hours on the unsuspecting."
These are the sentiments of Tracy Shannon, head of Texas MassResistance, in speaking with Church Militant Friday about the latest news on the drag queen story hour (DQSH) front.
Of course, none of that stopped Robinson from promoting himself.
Feeling happy as a headliner for AIDF pic.twitter.com/rIC490l0Q2

— Miss Kitty Litter ATX (@AtxMiss) August 16, 2019
However, what was uncovered was that Robinson is a sexual predator and criminal.
Its "Drag Queen Story Time" at the Houston TX public library complete with predators charged with 'Sexual Assault of Minors' stripping for dollars‼️

I'm sure Sheila Jackson Lee is proud of her District‼️https://t.co/utBaZ82pPH

— TheKat™ ❤️ (@SweetKat111) March 18, 2019
David Lee Richardson was arrested and convicted of offering sex for money in 1996.
According to MassResistance, Richardson has posted "perverse jokes and allusions to prostitution on social media, which strongly suggests that he has no qualms about the sex trade. Some posts suggest that he has not left the prostitution/sex trade at all."
Here's a copy of his criminal record.
And wouldn't you know it, apostate "churches" support this criminal.  Take a look.
Fortunately, parents were unafraid and called out the criminal actions of this man and those like him who are targeting America's children.
Mass Resistance reported:
On August 8, after uncovering numerous social media posts by Richardson alluding to homosexual sex, sado-masochism, and other repulsive behaviors (see below), MassResistance's Austin Chapter testified before the Austin City Council. They described what "Miss Kitty Litter" had posted on social media, and the local citizens demanded that the DQSH event be stopped.
They also held a press conference prior to the City Council meeting to describe the perverse lifestyles and "culture" associated with Drag Queens. Tracy Shannon led the press conference along with Kevin Whitt, our Dallas MassResistance chapter chairman and a former Drag Queen/transgender activist himself. Members of Texas MassResistance presented a number of posters showing the most perverse photos from Richardson's social media profile.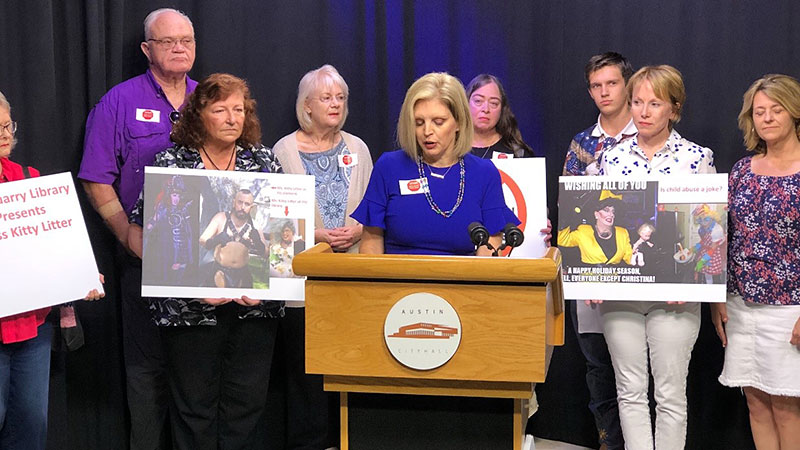 It was a hostile situation. The LGBT lobby and other left-wing groups showed up to protest us. And the City Council blatantly ignored our warnings. One Council member went off on a rant accusing us of "spreading hate and trying to make pointless political points."
Mass Resistance also documented many of his social media posts which are simply too vulgar to even post.
Additionally, Shane Trejo added, "Robinson told school librarian Roger Grape that he feared he would not pass a background check because 'the guidelines for submission automatically disqualify me if the deferred adjudication for prostitution is considered a conviction… so I don't know if [it's] ethical to submit,' according to internal documents within the school."
Trejo went on to write:
Oddly enough, he was allowed to speak to the children. The Austin Intermediate School District (AISD) assured parents that Robinson was properly screened despite his history as a sex offender.
"According to emails sent to parents," Texas Values points out, "the reading event was scheduled to take place at 11 a.m. and all readers had been screened by Austin ISD."
Previously, an Austin school on the other side of the district featured a drag queen who put make-up on children all day despite not being licensed to do so. The most liberal city in Texas seems to be emerging as a vanguard for the pedo-acceptance movement.
In October, the AISD approved new sexual education standards called a "dream scenario for pedophiles" that give children pointers on how to perform anal sex and encouraging them to get abortions without their parental consent.
Those who allowed this man to do what he did in front of children should be removed from positions of authority and charged with contributing to the delinquency of minors, and child abuse.
Until some justice gets dealt to practicing sodomites and those who enable them, especially concerning our children, nothing is going to change.
Drag Queen News
Article posted with permission from Sons Of Liberty Media