Seminole, OK — Over the years, TFTP has reported on numerous incidents of CPS or police officers taking children from caring parents and putting them into utterly horrifying situations where they are beaten or raped. Many times, these parents have simply been treating their illness with marijuana and have lost their children for it because the state is addicted to kidnapping and caging people for a plant. However, as the following case illustrates, one mother had her children taken away by cops because she is a health care worker who may be exposed to COVID-19.
Katie Spencer posted a photo to Facebook of the order police handed her when they took her children away late last month. It clearly cites her "proximity to coronavirus" as the reason for taking the kids.
This matter is before the Court on the Petitioner's ex parte Emergency Motion to Modify Custody and for Pick-Up Order Due to Respondent Spencer's Exposure to Coronavirus. The Petitioner alleged, and submitted documents in support, that the Respondent alleged proximity to Coronavirus. The Court takes judicial notice there is at present no vaccination, though children are generally less susceptible to the virus' effects it is highly contagious and lethal. Combined with the pre-existing health issues of one of the minor children and a proffered history of alleged neglect by the Respondent Spencer (mother), the Court finds that it is in the best interests of the minor children of this above-styled matter for an ex parte order for the Children to be immediately picked-up and placed into the custody of the Petitioner Sellers (father).
take our poll - story continues below
Completing this poll grants you access to DC Clothesline updates free of charge. You may opt out at anytime. You also agree to this site's Privacy Policy and Terms of Use.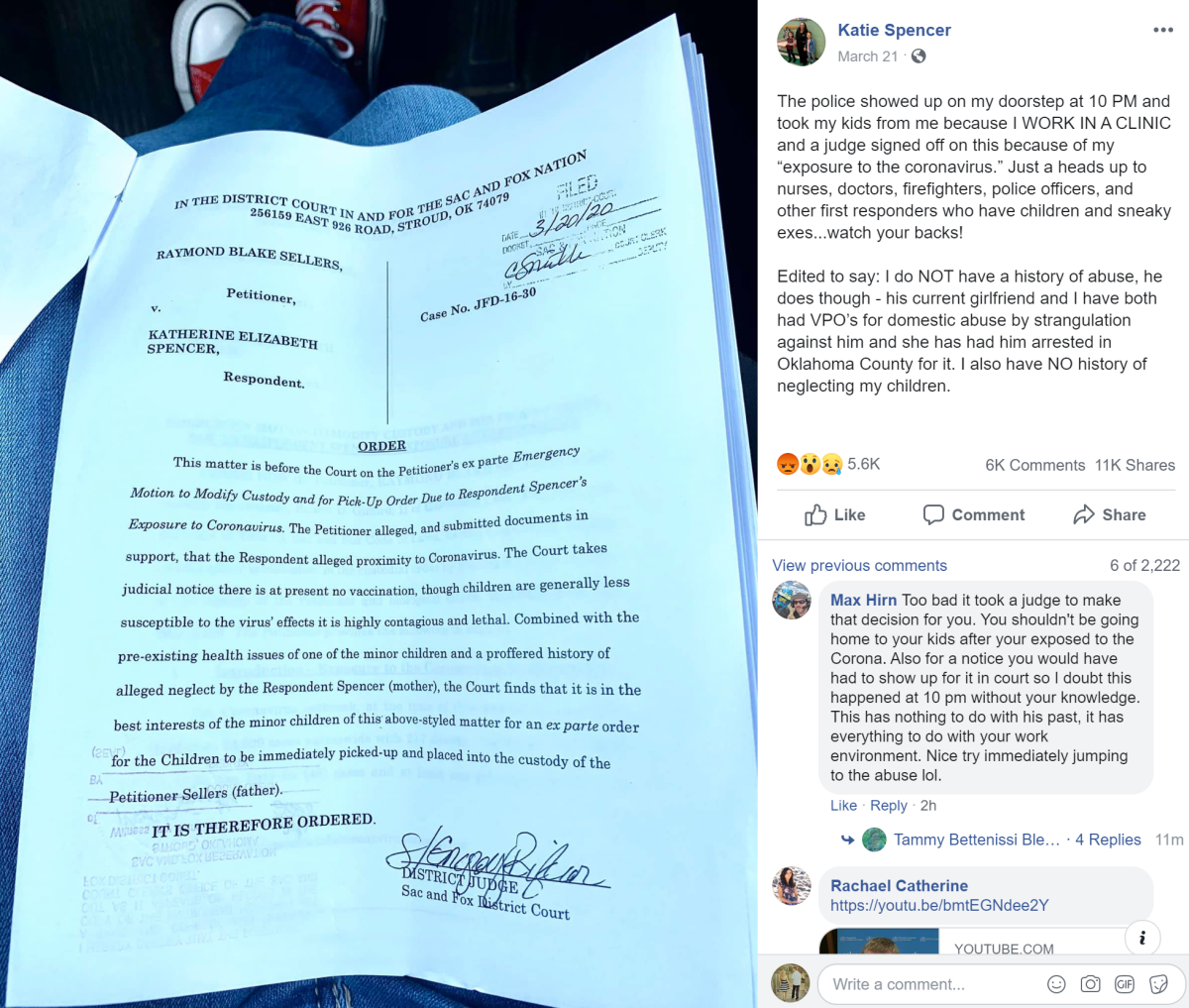 Spencer explained what happened in a Facebook post along with the photo of the court order.
The police showed up on my doorstep at 10 PM and took my kids from me because I WORK IN A CLINIC and a judge signed off on this because of my "exposure to the coronavirus." Just a heads up to nurses, doctors, firefighters, police officers, and other first responders who have children and sneaky exes…watch your backs!
According to Spencer, her angry ex-husband weaponized the police and the courts and used her job in a health clinic as a reason to get the children taken from her. After posting the photo of the order, many folks called Spencer out for the "alleged neglect" cited by the court. Spencer was quick to explain what this meant.
I do NOT have a history of abuse, he does though – his current girlfriend and I have both had VPO's for domestic abuse by strangulation against him and she has had him arrested in Oklahoma County for it. I also have NO history of neglecting my children
The "neglect," according to Spencer is simply going to work to support her family. "The neglect was me continuing to work," Spencer wrote on Facebook.
DoD Recruited More Than 10,000 Foreign-Born Individuals into US Military Via MAVNI
The idea that the court would take children from a caring mother because she works in a hospital should shock the conscience. While we don't know the specifics of the situation between Spencer and her ex-husband, the court order citing "exposure to coronavirus" is cause enough for concern.
What happens when both parents work on the front lines of the pandemic? Do their children get taken and go into the foster system? There are likely thousands of couples like this right now with children at home as their parents fight the virus in hospitals across the country. Our readers likely know what happens to many children in the foster system — they end up sex trafficked and missing.
TFTP reached out to Spencer to get a comment before publishing this story, but we were unable to reach her.
When police can go to a mother's home, who has no criminal history, take away her children and give them to a man who has had two alleged complaints for strangling two different women and an arrest, because of "exposure to coronavirus," we have a serious problem.
h/t TWS
Article posted with permission from Matt Agorist