Leftists and Islamic supremacists aren't even pretending anymore: they're waging an all-out war against the freedom of speech, working to silence anyone and everyone who speaks out for freedom and dissents from their insidious agenda. I predicted all this would happen in my 2017 book The Complete Infidel's Guide to Free Speech (and Its Enemies), but of course, that was dismissed as "Islamophobic."
"Amazon Censors 'Killing Free Speech' Documentary About Censorship," by Allum Bokhari, Breitbart, June 22, 2020:
Amazon has removed the first part of Killing Free Speech, a documentary about the threats to freedom of expression posed by Antifa and its allies in the media and Democrat parties. A second part of the documentary, focused on the power of Big Tech, will shortly be released.
take our poll - story continues below
Completing this poll grants you access to DC Clothesline updates free of charge. You may opt out at anytime. You also agree to this site's Privacy Policy and Terms of Use.
This is the second time that the documentary's creator, independent Danish-American conservative filmmaker Michael Hansen, has been censored by Amazon. As Breitbart News reported last year, Hansen's previous documentary, about mass migration and Islam in Europe, was also censored by the Big Tech platform.
Amazon notified Hansen of its decision in an email: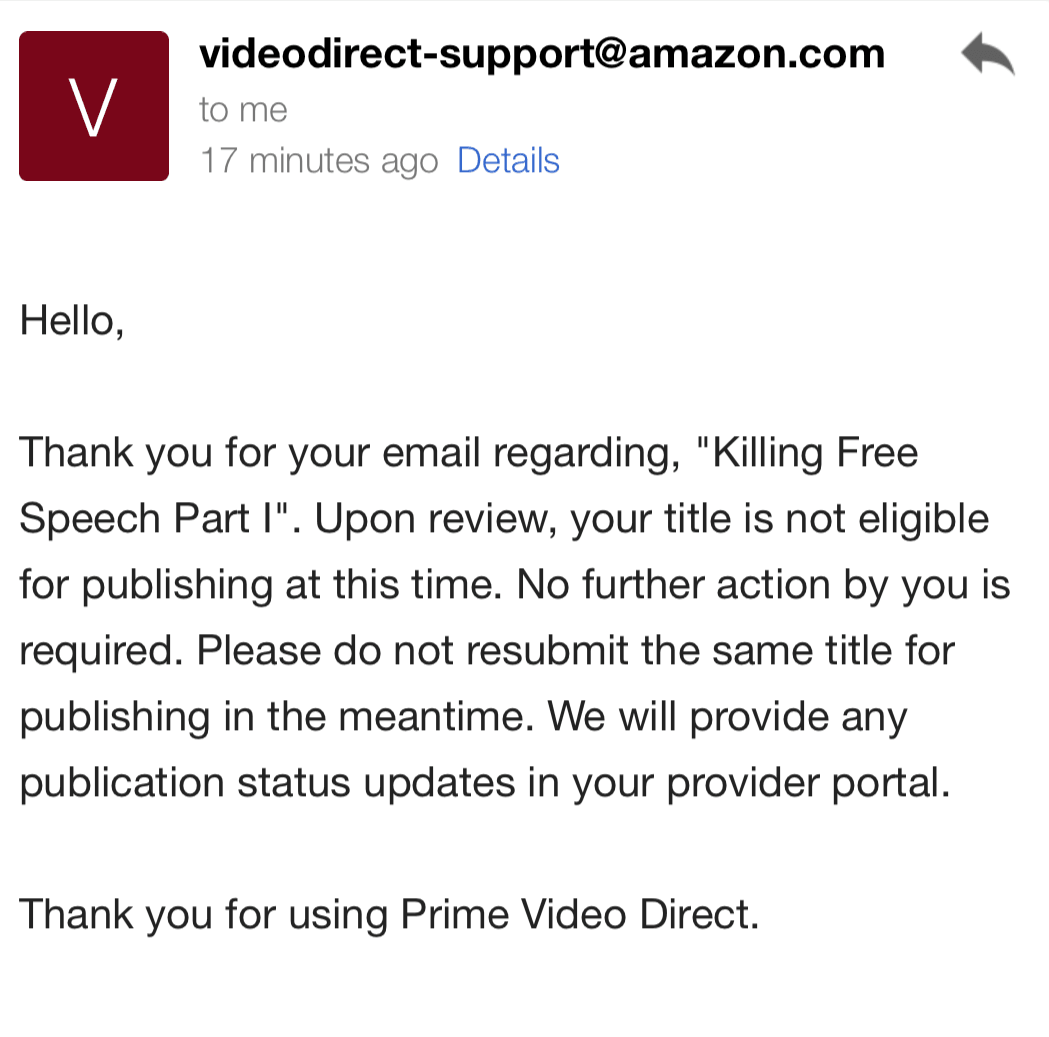 Killing Free Speech Parts 1 & 2 are both still available for purchase on Vimeo.
Killing Free Speech Part 1 shows an official from Council on American-Islamic Relations (CAIR) caught on camera admitting that women don't have equal rights under Sharia law. The documentary also charts the rise of Antifa in the United States, highlighting how the American movement has been influenced by violent militants in Europe….
Article posted with permission from Robert Spencer
h/t TWS
Amazon