By Tyler Durden
With the Trump Treasury sitting on $1.8 trillion and three months to spend it, the White House and Senate Republicans are set to introduce a $1 trillion spending bill on Monday which would be released in stages – angering Democrats who are pushing for an immediate, $3 trillion shotgun blast of stimulus.
Speaking with ABC's "This Week," White House Chief of Staff Mark Meadows said "I see us being able to provide unemployment insurance, maybe a retention credit, to keep people from being displaced or brought back into the workplace, helping with our schools," adding "we can negotiate on the rest of the bill in the weeks to come."
take our poll - story continues below

Completing this poll grants you access to DC Clothesline updates free of charge. You may opt out at anytime. You also agree to this site's Privacy Policy and Terms of Use.

The Trump administration opposes an extension of a $600-a-week enhanced unemployment payment that expired this month, Mnuchin and Meadows said. Instead, White House officials favor a plan to reimburse an individual's lost wages or salary by up to 70%, said Mnuchin and Meadows. –Newsday
Asked whether expiring federal unemployment benefits will be extended, WH Chief of Staff Mark Meadows says "The original benefits will not… We are going to be prepared, on Monday, to provide unemployment insurance extension that would be 70% of wages." https://t.co/qxICVVlxra pic.twitter.com/cDY6VWjXNN

— This Week (@ThisWeekABC) July 26, 2020
House Speaker Nancy Pelosi (D-CA) popped a fuse at the GOP proposal, blaming Republicans for waiting too long to negotiate for more relief after House Democrats passed a fifth, $3 trillion relief bill which would have included immediate aid to state and local governments, expanded testing and contact tracing for COVID-19.
Appearing on CBS's "Face the Nation," Pelosi said that Republicans are "in disarray and that delay is causing suffering for America's families. So we have been ready for two months and 10 days. I've been here all weekend hoping they had something to give us."
Treasury Secretary Steven Mnuchin, meanwhile, says the White House is "prepared to act quickly."
We bet they are.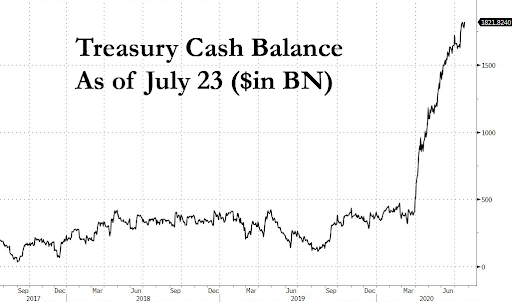 Mnuchin added that unemployment benefits would be extended, while schools and universities would receive protection against "frivolous" lawsuits – part of overall GOP support for protections that would also include corporations.
"Within the trillion-dollar package, there's certain things that have time frames that are a bigger priority, so we could look at doing an entire deal, we could also look at doing parts," said Mnuchin, adding that he would push for a "technical fix" to unemployment insurance after many have criticized the $600 weekly benefit as being too high, and a disincentive to searching for a job.
The fix would ensure "that people don't get paid more to stay home than they do to work, and we can move very quickly with the Democrats on these issues," Mnuchin said.

He added: "The fair thing is to replace wages, and it just wouldn't be fair to use taxpayer dollars to pay more people to sit home than they would get working and get a job."

Pelosi said last week that Democrats would not accept a "piecemeal" approach to a deal. 

The Speaker on Sunday said it's easier for the government to provide a $600 payment to the unemployed than to calculate what 70% of each worker's salary was. –Newsday
"The reason we had $600 was its simplicity," said Pelosi, adding "And figuring out 70% of somebody's wages. People don't all make a salary … They make wages and they sometimes have it vary. So why don't we just keep it simple?"
Source: Zerohedge
Subscribe to Activist Post for truth, peace, and freedom news. Send resources to the front lines of peace and freedom HERE! Follow us on SoMee, HIVE, Parler, Flote, Minds, and Twitter.
Provide, Protect and Profit from what's coming! Get a free issue of Counter Markets today.
Latest