CDC Director Rochelle Walensky confirmed on Friday that boosters may soon be mandatory to be considered "fully vaccinated" under our nation's various vaccine passport schemes.
From The Epoch Times:
The director of the Centers for Disease Control and Prevention (CDC) on Friday suggested that the definition of what constitutes being "fully vaccinated" may change as boosters become more commonplace, echoing a move handed down several weeks ago by Israeli officials.

take our poll - story continues below

Completing this poll grants you access to DC Clothesline updates free of charge. You may opt out at anytime. You also agree to this site's Privacy Policy and Terms of Use.

For now, in order to meet the CDC's criteria for being "fully vaccinated," one has to have two shots of either the Moderna or Pfizer COVID-19 vaccine, or one dose of Johnson & Johnson's.

"We have not yet changed the definition of 'fully vaccinated.' We will continue to look at this. We may need to update our definition of 'fully vaccinated' in the future," CDC Director Rochelle Walensky told reporters in response to a question about whether the fully vaccinated status will one day be imperiled for those who have received two shots of the Moderna or Pfizer vaccine, or one dose of the J&J vaccine.

"If you're eligible for a booster, go ahead and get your booster and we will continue to follow," she added. Walensky did not offer a timeline or other details about a possible change.

Walensky's comments Friday represent a reversal of a previous position she took during a COVID-19 briefing. In late September, she said that federal health officials are not considering changing the definition of "fully vaccinated" for the time being.
The CDC earlier this year changed the definition of "vaccine" in order to classify these temporary therapeutics as "vaccines" and now they're going to change the definition of "vaccinated" to mean being in compliance with endless boosters.
After Fauci's prediction that 60-70% of the public would need to either have natural immunity or the vaccine for the pandemic to end did not come true, Fauci shifted the goalposts to 90% and said he lied to the public in order to get their compliance.
From Axios:
"About a month ago, [Fauci] began saying '70, 75 percent' in television interviews. And last week, in an interview with CNBC News, he said '75, 80, 85 percent' and '75 to 80-plus percent,'" [New York Times' Donald G.] McNeil writes.

[…] "Fauci acknowledged that he had slowly but deliberately been moving the goalposts."

"He is doing so, he said, partly based on new science, and partly on his gut feeling that the country is finally ready to hear what he really thinks."

"When polls said only about half of all Americans would take a vaccine, I was saying herd immunity would take 70 to 75 percent … Then, when newer surveys said 60 percent or more would take it, I thought, "I can nudge this up a bit," so I went to 80, 85. We need to have some humility here …. We really don't know what the real number is. I think the real range is somewhere between 70 to 90 percent. But, I'm not going to say 90 percent."
An FDA panelist confirmed earlier this month after voting to approve Moderna's booster that these shots are being approved based off "a gut feeling" rather than any "really truly serious data."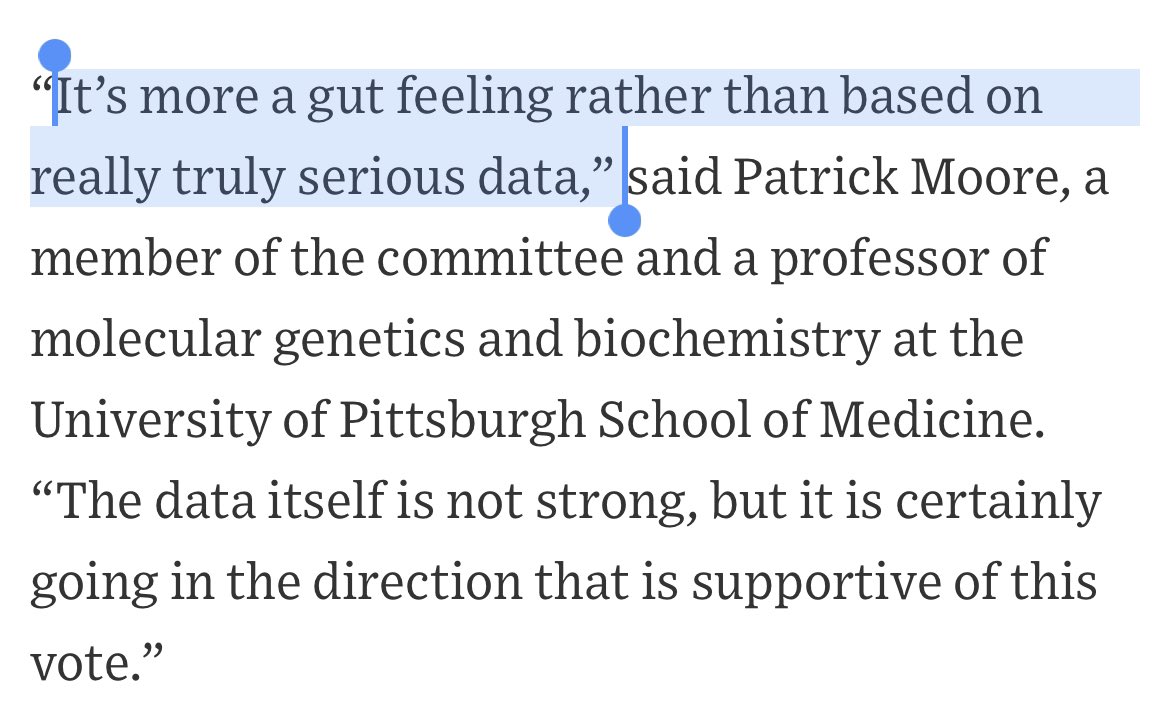 They've gone from "trust the science" to "trust our gut feelings" in just a matter of months.
Follow InformationLiberation on Twitter, Facebook, Gab, Minds, Parler and Telegram.
Article by Chris Menahan