Cash App founder Bob Lee was captured on surveillance video begging bystanders in the streets of San Francisco to "Help!" while bleeding to death after being brutally stabbed only to get ignored.
From The San Francisco Standard, "Slain Tech Exec Bob Lee Screamed for 'Help' in 911 Call After SF Stabbing":
Tech executive Bob Lee walked up an empty San Francisco street in the early hours of Tuesday gripping his side with one hand and his cellphone in the other, leaving a trail of blood behind him.

take our poll - story continues below

Completing this poll grants you access to DC Clothesline updates free of charge. You may opt out at anytime. You also agree to this site's Privacy Policy and Terms of Use.

"Help!" he screamed into his phone. "Someone stabbed me."

Those were some of the last words Lee said on a 911 call before collapsing on a Rincon Hill sidewalk, according to surveillance footage and records reviewed exclusively by The Standard.

Lee, the 43-year-old chief product officer of MobileCoin, was taken to San Francisco General Hospital and later died. Police say he suffered two stab wounds to the chest. […]

Surveillance footage reviewed by The Standard shows Lee, who had already been stabbed, walking up Main Street away from the Bay Bridge at around 2:30 a.m. Lee crosses the intersection at Harrison Street and walks up to a parked white Camry with its hazard lights flashing.

Lee then lifts his shirt—as if to show the driver his wound and ask for help—and falls to the ground after the car drives away, the footage shows. He gets up and walks back toward the Bay Bridge before falling to the ground again outside an apartment building called the Portside.

At some point, Lee dialed 911 and repeatedly screamed for help, saying he needed to go to the hospital, according to the records reviewed by The Standard. Lee made the call at 2:34 a.m. and police arrived on the scene less than six minutes later.

Lee was unconscious when officers found him on the ground, police said.

Wednesday morning, The Standard saw workers cleaning up what appeared to be blood on the sidewalk and wall outside the building where Lee collapsed. Across the street, a trail of blood led up the sidewalk from beneath the Bay Bridge toward Harrison Street.

Police have not announced any arrests or suspects.

In his first public comments addressing the killing, SFPD Chief Bill Scott declined to say whether the stabbing was random.

"I have nothing to share yet," Scott said at a Police Commission meeting on Wednesday evening. "We don't want to be premature and definitely we don't want to speculate so we are going to be thoughtful about following the evidence and we'll put out what we'll put out as soon as we can."
During the Floyd riots of 2020, San Francisco Chief of Police William Scott announced that the SFPD will no longer be releasing most mug shots because "research" suggested they create an "illusory correlation" associating "black and brown men" with criminal behavior.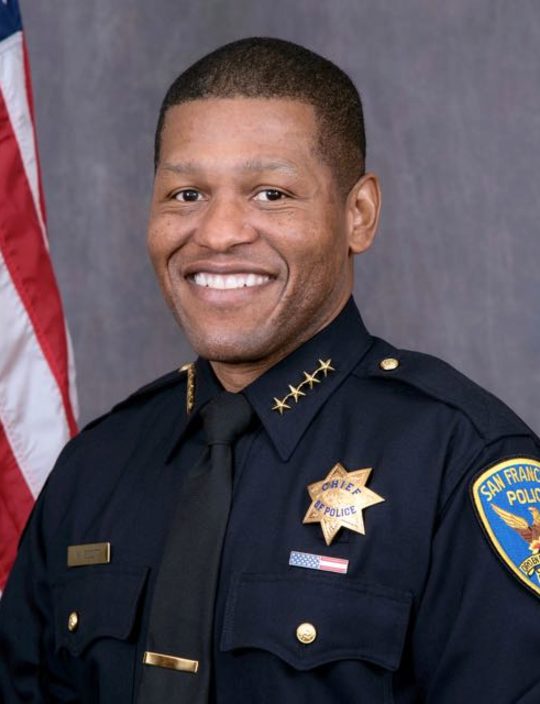 Media outlets have similarly started refusing to release police descriptions of nonwhite suspects to avoid "perpetuating stereotypes."
Is Police Chief Scott refusing to release a description of Lee's suspected killer in order to "combat stereotypes"?
Follow InformationLiberation on Twitter, Facebook, Gab, Minds and Telegram.